News Brief

Memories...TrainRiders/NE Chairman Wayne Davis looks back on
the Downeaster's Year-of-Success. Yes, it was a very good year!
Go here.
NNEPRA Board Meeting - March, 2012
Details

Written by TRN Webmaster

TRN Webmaster

Published: 03 April 2012

03 April 2012
Downeaster Performance Numbers, both ridership and revenue, showed very strong growth during the first two months of 2012. Executive Director Patricia Quinn reported January ridership increased by 8.7% over January of 2011 and February ridership was up 11.7% over the same period of last year!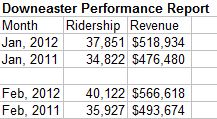 On Time Performance was equally strong - 90.3% in January and 92.1% in February. These excellent numbers were due in large part to a much milder winter and fewer slow orders.
Downeaster Customer Satisfaction was 92% in December (82% for Amtrak overall) and 96% in January (85% for Amtrak).
Expansion News:
The board authorized an RFP for the Brunswick Layover Facility. There are four qualifying design firms and Ms. Quinn expects a decision by May.
The Freeport platform is complete and the Brunswick platform should be finished in six weeks.
PanAm track crews will be fully mobilized in April as the rehabilitation work on the line from Portland to Brunswick moves toward completion this fall.
Other News:
A letter from Wells Town Manager Jonathan Carter was read requesting consideration of a ticket surcharge of $1 which would of help offset the town's cost of operating their station building. The board will invite Mr. Carter to an uncoming meeting so that the issue can be more fully explored.
While reasons for the strong ridership growth were not specifically discussed during the meeting, an article on the migration of drivers from the highways to public transportation appeared in Seacoastonline.com. Patricia Quinn's noted that gas prices, now approaching $4.00/gallon, are impacting ridership. Read here.{jcomments on}