NNEPRA Board Meeting - September, 2012
Details

Written by TRN Webmaster

TRN Webmaster

Published: 24 September 2012

24 September 2012
Downeaster Performance Continues to Amaze!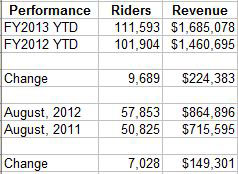 The new fiscal year (2013) which began on July 1st, is already posting impressive ridership and revenue growth. Patricia Quinn, Executive Director of NNEPRA, spoke of "amazingly significant growth" in her report to the board.
OTP
Overall on time performance in August, 2012 stood at 80% with trains 680, 681, 682 & 689 turning in 90-99% OTP.
CSI
Overall customer satisfaction in July was 93% for the Downeaster as compared to 85% for Amtrak.
Schedule Changes
A new schedule goes into effect on the October 15th. Expanded service to Freeport and Brunswick begins on November 1st. Of particular interest is an earlier departure from Portland of #680 (5:25a instead of 5:45a) which means it arrives in Boston at 7:55a instead of 8:15a. Coming home in the evening, #687 will depart North Station at 6:45p instead of 5:40p. Ms Quinn explained that this is the result of MBTA signal work on shared trackage and NNEPRA is working to change that departure time to 6:00p once the upgrade is complete (hopefully in the spring). There are other changes in the schedule and you can view the new schedule here.
Wells-Bicycles
NNEPRA announced that bicycle boardings at Wells had been discontinued. It was explained that bringing bicycles into the coaches for storage was now impractical due to heavy passenger loads and that spotting the train twice, once for the cabbage car to load bicycles and then again for passengers to board, compromised the schedule. Safety concerns were also expressed. Brunswick, Portland and Boston will be the only stations where bicycles can be put on board the train. NNEPRA is looking into a bike sharing program for the stations.
Brunswick/Freeport Inaugural Train
On November 1st, #681 will have a modified schedule as it departs North Station. Stay tuned for more information.{jcomments on}