Quick Note: Train Host Program

TrainRiders/NE Train Hosts serve as goodwill ambassadors onboard the Downeaster to assist passengers with information; assist train crews in duties as requested by them; and promote rail safety.
As a volunteer, you'll travel between Maine and Boston conversing with passengers along the way.

Click on "Host Program" in the above menu for more information.

January, 2013 NNEPRA Board Meeting
Details

Written by TRN Webmaster

TRN Webmaster

Published: 02 January 2013

02 January 2013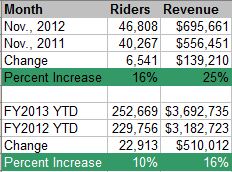 The performance statistics continue to pile up and today's board meeting heard more evidence of the impressive sustained growth of the Downeaster - double-digit growth in ridership and revenue for the month of November.
How many other state agencies are showing a 25% growth in revenue in the month of November? Of course, adding Freeport and Brunswick was a big help.
November ridership north of Portland, to Freeport and Brunswick, averaged 177 passengers per day or 5,310 for the month. December ridership north of Portland averaged 173 passengers per day or 5,363 for the month. NNEPRA's projection was that 100 passengers would travel north of Portland monthly - one wicked good start!
On Time Performance for November was 79.4%.
Overall Customer Satisfaction Score in October was 93% for the Downeaster, 86% for Amtrak nationwide.
Though hard stats for the calendar year are not yet firmed up, NNEPRA Executive Director Patricia Quinn expects ridership to be around 560,000 - a new record!{jcomments on}