News Brief
NNEPRA reports May ridership missed FY2017 target by 5%, due to loss of approximately 2,500 riders because of weekend curtailments and heat restrictions. May ridership was only 261 passengers below May of last year. FY2017 YTD ridership is 9% ahead of target. When the June numbers come in, FY2017 promises to be a very successful year. 
National Train Day Celebration at Brunswick Station
Details

Written by TRN Webmaster

TRN Webmaster

Published: 05 May 2013

05 May 2013
National Train Day - Saturday, May 11th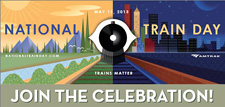 Amtrak has selected Brunswick as the station along the Downeaster route to celebrate 'Trains Matter.'
A Downeaster train will be at the station and open for tours (including Cafe Car samples) from 11 a.m. to 4 p.m., along with travel ideas, kids features and NNEPRA, Operation Lifesaver and TrainRiders/NE booths.
Meet those who: BROUGHT you the train (Wayne Davis and TrainRiders' board members), MANAGE the service (Patricia Quinn & staff), RUN the trains (Amtrak crews) and EMPHASIZE SAFETY (Maine Coordinator Fred Hirsh of Operation Lifesaver - safety exhibit plus two model train layouts). And...Saturday is a $5/ticket day between Exeter and Brunswick (and all stations in between).{jcomments on}