Quick Note: Train Host Program

TrainRiders/NE Train Hosts serve as goodwill ambassadors onboard the Downeaster to assist passengers with information; assist train crews in duties as requested by them; and promote rail safety.
As a volunteer, you'll travel between Maine and Boston conversing with passengers along the way.

Click on "Host Program" in the above menu for more information.

National Train Day Celebration at Brunswick Station
Details

Written by TRN Webmaster

TRN Webmaster

Published: 05 May 2013

05 May 2013
National Train Day - Saturday, May 11th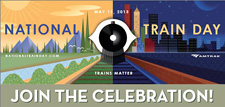 Amtrak has selected Brunswick as the station along the Downeaster route to celebrate 'Trains Matter.'
A Downeaster train will be at the station and open for tours (including Cafe Car samples) from 11 a.m. to 4 p.m., along with travel ideas, kids features and NNEPRA, Operation Lifesaver and TrainRiders/NE booths.
Meet those who: BROUGHT you the train (Wayne Davis and TrainRiders' board members), MANAGE the service (Patricia Quinn & staff), RUN the trains (Amtrak crews) and EMPHASIZE SAFETY (Maine Coordinator Fred Hirsh of Operation Lifesaver - safety exhibit plus two model train layouts). And...Saturday is a $5/ticket day between Exeter and Brunswick (and all stations in between).{jcomments on}