May NNEPRA Board Meeting - Bridge Reconstruction Outages and Boston Marathon Bombings Reduce April Ridership/Revenue
Details

Written by TRN Webmaster

TRN Webmaster

Published: 30 May 2013

30 May 2013
As NNERPA Executive Director Patricia Quinn put it, "Aprl was not a good month."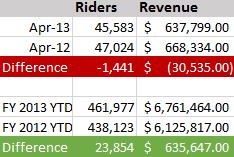 First, there were two weekend Shawsheen River Bridge reconstruction outages, meaning that the Downeaster could not bring passengers to or from Boston, and then the Boston Marathon bombings closed North Station to all train traffic - frustrating NNEPRA, Amtrak and passengers alike.
The numbers on ridership and revenue reflect those unusual events. However, the Downeaster will be 'back on track' for the month of May as ridership, according to Ms. Quinn, is already ahead of last May by 2,400.
Despite the difficulties encountered in April, the fiscal year to date remains ahead of last year.
Brunswick Layover Facility
Ms. Quinn hopes to hold a public hearing in July on the facility's about-to-be-completed Environmental Assessment Study.
BikeShare Program
There will be 10 new rental bikes available at the Portland Transportation Center. 24-hour rental will cost $20, all done via the rider's cell phone.
Reel Video Contest
You can help NNEPRA select a winner in their amateur video contest by casting your vote. Just go here.
{jcomments on}