TRN's Wayne Davis Comments on Continued Downeaster Layover Facility Controversy
Details

Written by Wayne E. Davis (Board, Chairman)

Wayne E. Davis (Board, Chairman)

Published: 07 July 2013

07 July 2013
The Portland Press Herald reported Friday that Senator Angus King (I-ME), who lives in Brunswick, recently sent a letter to FRA Administrator Joseph Szabo requesting that the federal agency "conduct a full, fair and transparent" environmental assessment of the proposed Downeaster layover facility in West Brunswick.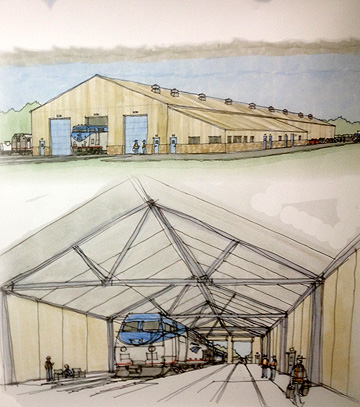 The Senator's letter was no doubt inspired by the many accusations made by the Brunswick West Coalition – the citizens group opposed to the project - that for some time now has continually questioned the integrity, honesty and truthfulness of the Board and Staff of the Northern New England Passenger Rail Authority (NNEPRA). They have also questioned the results of the studies performed by reputable engineering firms for NNEPRA and the Maine Department of Transportation even though those same firms are used regularly by various state agencies in both Maine and New Hampshire.
To say that NNEPRA and the DOT studies have been "sketchy at best" and that these officials have "turned a cold-shoulder to residents concerns, refusing to hold public hearings and denying access to environmental studies and cost information about the project" is rubbish. Nothing could be further from the truth.
TrainRiders/Northeast, the volunteer grass roots organization formed in 1989 whose efforts made the Downeaster possible - has carefully observed and reviewed the facts and issues during the four public sessions held by NNEPRA during the past year or so and find nothing out of line. We invite you to review our response to a letter written by Maine Senator Stan Gerzofsky some weeks ago about these same issues. You might also be interested in knowing the official findings about the site in question included in the Downeaster Layover Facility Project Siting Report prepared for NNEPRA & the public by the reputable engineering firm of Parsons Brinkerhoff in August of 2011. That study, with which we concur, concludes that the Brunswick West site in the 100+ year old Maine Central Railroad Yard, and properly zoned as such, is the most cost effective and practical site for the facility. Indeed, the costs and operational difficulties of using an alternative site could be sufficient to doom the service.
Though TrainRiders does sympathize with the concerns of the neighbors of Brunswick West and do not minimize their concerns, we still think that the rail yard is the best place for the facility and will not cause the harms which those neighbors fear. Furthermore, NNEPRA has an obligation to all Maine taxpayers to develop passenger rail service in the most practical and cost-effective way. Although to the extent that operational difficulties can be over come, we are not opposed to the construction of the facility at another location. However, the considerable additional cost associated with any such change should not be borne by all Maine taxpayers, but rather, for the sake of fairness and accountability, should be funded through local means.
Nevertheless, we agree with Senator King's request that the FRA "conduct a full, fair and transparent" environmental assessment of the project – though we would have said "…continue to conduct…."
We totally disagree with the spokesman for the Brunswick West Coalition who stated during his interview with the Press Herald recently that "The process has not been fair. It hasn't been transparent. We are just little guys, and they are trying to railroad us."
How sad......Let's wait for the actual Environmental Assessment document and the public input from all of Brunswick's citizens before continuing this counterproductive assault on a state agency and its managment that continues to excel in the performance of their duties

Wayne Davis
Chairman,TrainRidersNE