Quick Note: Train Host Program

TrainRiders/NE Train Hosts serve as goodwill ambassadors onboard the Downeaster to assist passengers with information; assist train crews in duties as requested by them; and promote rail safety.
As a volunteer, you'll travel between Maine and Boston conversing with passengers along the way.

Click on "Host Program" in the above menu for more information.

Urgent Public Meeting Tonight at Brunswick Town Council Chambers
Details

Written by Wayne E. Davis (Board, Chairman)

Wayne E. Davis (Board, Chairman)

Published: 26 September 2013

26 September 2013
To all friends of Amtrak's Downeaster service.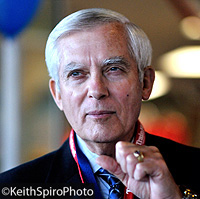 PLEASE COME TO THE PUBLIC HEARING REGARDING THE BRUNSWICK LAYOVER FACILITY on THURSDAY, SEPTEMBER 26, 2013 FROM 5:30 TO 7:30pm BEING HELD ON THE 2ND FLOOR OF THE BRUNSWICK STATION, IN THE BRUNSWICK TOWN COUNCIL CHAMBERS.

The nimby's will be out in force so your presence and this opportunity to speak briefly should not be missed. Simply say that you support the site chosen by NNEPRA and currently approved by the FRA. NNEPRA completed the Environmental Assessment (EA) in full accordance with federal and state laws and the EA should be upheld.
All persons using the Downeaster service in all three states, Maine, New Hampshire and Massachusetts are allowed to speak and comment because what happens here in Maine could "stop the Downeaster in its tracks" as stated recently by NNEPRA's Executive Director.
While personal presence is most desirable, written comment will be accepted if sent by US Mail to NNEPRA, 75 West Commercial St., Suite 104, Portland, ME 04101 or electronically to
This email address is being protected from spambots. You need JavaScript enabled to view it.
.
Come on everyone, it took 12 years to get the Downeaster - don't let this opportunity to save "America's Favorite Train" slip away.
--
Wayne Davis, Chairman
PO Box 4869
Portland, ME 04112
Office: 207 879-7245
Cell: 207 272-2877