News Brief

Memories...TrainRiders/NE Chairman Wayne Davis looks back on
the Downeaster's Year-of-Success. Yes, it was a very good year!
Go here.
NNEPRA's Annual Meeting Reports 'Modest Growth' for FY2014
Details

Written by TRN Webmaster

TRN Webmaster

Published: 31 October 2014

31 October 2014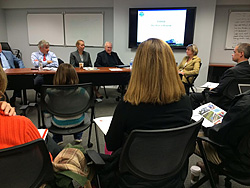 Executive Director Patricia Quinn and her staff reported details of FY2014 to a packed meeting room of interested parties. Here are selected items from the Annual Report:
Performance Statistics:
4% increase in Ridership - 536,524 total
6.2% increase in Revenue - $8.6 total
58% On Time Performance
On Time Performance
MBTA work on the Shawsheen River Bridges required weekend track outages and forced 12 Downeaster trains to be cancelled. The severe winter created severe track conditions in the spring, resulting in the cancellation of 24 additional trains and the estimated loss of 4,000 riders and $64,000 in revenue.
Passenger Profile
Passengers chose to ride the Downeaster for a variety of reasons:
45% - Leisure
28% - Visit friends and family
17% - Business
2% - Medical
2% - College
6% - Other
During FY2014
57% - Traveled to or from Maine (66% of revenue)
30% - Traveled between NH and Boston (25% of revenue)
25% - Traveled on passes (16% of revenue)
Customer Satisfaction
Throughout the year of challenges, passsengers continually ranked the Downeaster the highest among Amtrak trains for customer service with an overall satisfaction rating of 93%.
FY2015
NNEPRA projects a 3% drop in ridership due mainly to tie replacement & bridge projects.