Quick Note: Train Host Program

TrainRiders/NE Train Hosts serve as goodwill ambassadors onboard the Downeaster to assist passengers with information; assist train crews in duties as requested by them; and promote rail safety.
As a volunteer, you'll travel between Maine and Boston conversing with passengers along the way.

Click on "Host Program" in the above menu for more information.

NNEPRA Board Meeting Hears Charges of 'Conflict of Interest' Against Board Member Robert McEvoy
Details

Written by TRN Webmaster

TRN Webmaster

Published: 24 November 2014

24 November 2014
Conflict of Interest Discussion during Public Comments (Updates at the bottom of this report)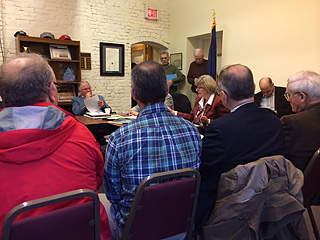 It was a packed board room that heard serious charges brought against Robert McEvoy, the first openly hostile NNEPRA board member to be appointed by the administration.
Citizens from Brunswick as well as TNE representatives stated that Mr. McEvoy, by writing a letter to the DEP detailing what he perceived to be unanswered questions in NNEPRA's Storm Water Runoff Permit, created a conflict of interest by not informing the NNEPRA Board, its leadership or its Executive Director of his action which publicly undercut NNEPRA's official position.
F. Bruce Sleeper, Counsel to TRN, noted that the Maine Attorney General issued an opinion on conflict of interest in 1983:
A public servant occupies a position of confidence and responsibility; he is, in essence a trustee for the public...An officer is not permitted to place himself in a position in whch his individual interest may clash or appear to clash, with the duty which he owes the public.
Mr. Sleeper called for the board to "not permit Mr. McEvoy to participate as a NNEPRA board member in any proceedings dealing with the Brunswick Layover Facility."
Other members of the public called for an apology from Mr. McEvoy, and if that was not forthcoming, a resignation from his position on the board.
Chairman Eisenstein noted that any board member can speak his mnd and called Mr. McEvoy an "honorable man."
There was considerable discussion about the ethics of Mr. McEvoy's intervention against NNEPRA's Storm Water Runoff Permit and the issue will be examined by the board with additional legal input.
NNEPRA is awaiting word from the DEP as to when the public hearing will be held on its Storm Water Runoff Permt.
Resource: Press Herald story
Performance Report & Other Items
Executive Director Patricia Quinn reported that Amtrak had not provided full numbers since August, thus no detailed report was available. However, these highlight did emerge.
October ridership was 41,647, which was a solid number considering that some 28 trains had been cancelled and an additional 30+ trains had been affected to some degree. Still, October ridership and revenue exceeded last October!
In the month of November, 39 trains have been cancelled due to continuing tie replacement.
Service to Freeport and Brunswick began on November 1, 2012. Some 101,000 riders have used those stations during those two years.
Kennebunk has decided not to construct a temporary platform for service next year. They will wait and construct a permanent platform for service in 2016
================ ================ =============
UPDATES!!!
A fine article has appeared in The Cryer, a monthly publication in Brunswick. Keith Spiro writes a regular column entitled, "The Boston & Maine Connection." This month, Keith points out the downside to the NIMBY objections to the Brunswick layover Facility. A little history helps us understand why economic growth is a community-wide needs.

Here's a pdf of the article. Thanks, Spiro.

The Boston & Maine Connection

.

An article on the 'conflict of interest' charges in The Forcaster.