Quick Note: Train Host Program

TrainRiders/NE Train Hosts serve as goodwill ambassadors onboard the Downeaster to assist passengers with information; assist train crews in duties as requested by them; and promote rail safety.
As a volunteer, you'll travel between Maine and Boston conversing with passengers along the way.

Click on "Host Program" in the above menu for more information.

NNEPRA Board Meeting Concentrates on the "Really Tough Winter"
Details

Written by TRN Webmaster

TRN Webmaster

Published: 24 February 2015

24 February 2015
The extensive tie replacement work done by Pan Am during the first six months of FY2015 (July through December of 2014), took a signifcant toll on Downeaster performance with 143 trains cancelled.
Then came the blizzards of 2015! In January, Downeaster ridership of 34,931 was down by 3% as compared to last January - 16 trains were cancelled. February to date has seen 36 trains cancelled and those that did complete their roundtrips, experienced signifcant delays. Ridership this year-to-date is down approximately 6,000 passengers.
Ms. Quinn explained to the board, using pictures from the outdoor Portland Layover Facility, why the indoor Brunswick Layover Facility is a necessity. Following the meeting, Patricia sat down with TrainRiders/NE to emphasize the "tough winter" conditions that maintenance and train crews must deal with on a daily basis.
But it's not just the Downeaster that has suffered. Rail systems, freight and passenger, have fallen victim to Mother Nature's fury from New York to Maine.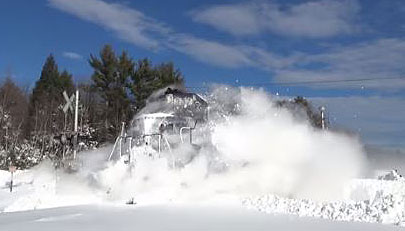 The Portland Press Herald details the damage: http://www.pressherald.com/2015/02/28/freight-slows-as-snow-cold-pummel-trains/