News Brief

Memories...TrainRiders/NE Chairman Wayne Davis looks back on
the Downeaster's Year-of-Success. Yes, it was a very good year!
Go here.
27th Annual TrainRiders/NE Meeting Hears from Amtrak, NNEPRA and State Rail Leaders
Details

Written by TRN Webmaster

TRN Webmaster

Published: 15 October 2015

15 October 2015
TrainRiders/NE welcomed three important passenger rail leaders to our 27th Annual Meeting at the Holiday Inn by the Bay in Portland.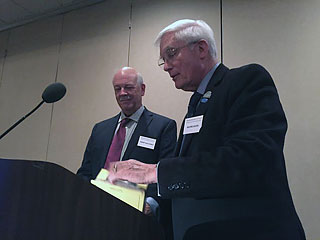 Amtrak Briefing: The Keynote speaker was Drew Galloway, Amtrak's Deputy Chief of NEC Planning & Performance. His grasp of the Northeast Corridor's growth and challenges was impressive to all who attended.
He detailed major projects that Amtrak is currently managing: two new tunnels under the Hudson River connecting New York City and New Jersey (the existing tunnels are deteriorating at a rapid rate as the salt water intrusion from Hurricane Sandy takes its toll); new construction replacing 100-year-old bridges; and significant redevelopment projects at major-city train stations. Mr. Galloway has granted us permission to share his PowerPoint presentation with our members and friends (Go here for a PDF).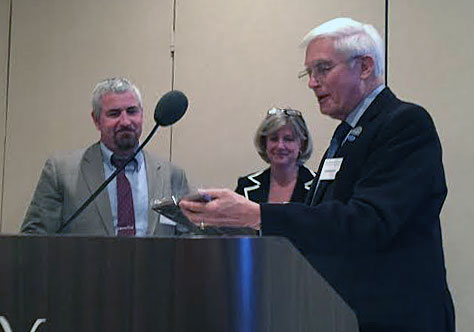 NNEPRA Briefing: Executive Director Patricia Quinn shared with us the "Winter from Hell" statistics of FY 2015 -- not a pretty picture by any means. In her presentation, she praised her staff and the Amtrak/Downeaster crews who worked with extreme dedication to keep passengers as informed as possible -- frequently dealing with slow orders and cancellations on an hourly basis.

NNEPRA Project Manager, Jim Russell, received a plaque from our chairman, Wayne Davis, for his determination in pushing the Brunswick Layover Facility to the finish line.
State Briefing: The Maine Commisson of Transportation, David Bernhardt, briefed the gathering on the importance of freight rail improvements to the state's economy and the positive fallout of such activites for passenger rail in the state. He pointedly told our US Congress to "do their jobs" by approving a long-term transportation bill.
Annual meetings are extraordinary gatherings for our members and friends to receive in-depth briefings on rail challenges and opportunities in northern New England and beyond. We were not disapointed!