News Brief

Memories...TrainRiders/NE Chairman Wayne Davis looks back on
the Downeaster's Year-of-Success. Yes, it was a very good year!
Go here.
Construction Begins at Brunswick Layover Facility As NNEPRA Puts Bad Year Behind Them
Details

Written by TRN Webmaster

TRN Webmaster

Published: 22 October 2015

22 October 2015
Brunswick Layover Facility: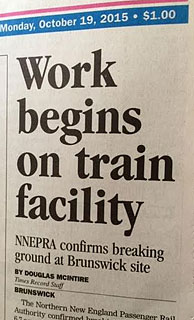 It took nearly four years, but the construction equipment is now working at the layover property in Brunswick.
The facility will house three train sets and reduce emissions and noise while enabling light maintenance year round. A particular benefit to maintenance crews is the ability to do their work out of the elements, particularly during winter months.
Another roundtrip to Boston will be added once the BLF is completed -- hopefully in June.
The neighborhood opposition has appealed the DEP's awarding of the storm water runoff permit to NNEPRA -- that process is now in the hands of the Board of Environmental Protection, but the approved permit has allowed construction to begin. More details on the Brunswick Layover Facility can be found on the NNEPRA website.
NNEPRA Annual Meeting in Saco
On October 21st, Saco hosted the NNEPRA Annual Meeting in the City Council Chambers. Executive Director Patricia Quinn shared the year's disappointing numbers: "In FY15, a total of 411 Downeaster trains were canceled and 291 were interrupted, with an estimated impact of approximately 80,000 riders and more than $1 million in revenue." The Downeaster carried 438,364 passengers (down 18.3% from FY14); generated $7,645,555 in revenue (down 11.3% from FY14); and attained an On Time Performance average of 30% (down near 50% from FY14). Extensive track work by PanAm to restore the quality of the right-of-way resulted in these negative numbers. Fortunately, that is now past and the trains are back to their dependable runs.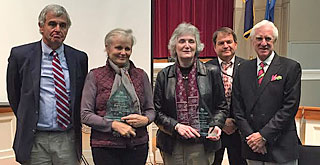 At the Annual Meeting, the George J. Mitchell Award for Public Service was presented to All Aboard Brunswick. Ms. Quinn praised the local organization for "being willing to openly stand up for improved Amtrak service in the face of testy opposition from the Brunswick West opponents." Emily Boochever and Alison Harris accepted the award on behalf of AAB. (In the picture: Board Chairman Marty Eisenstein on the left, then Emily, Alison, DOT Commissioner David Bernhardt, and Board VP Dana Connors.) In addition, TrainRiders/NE and its counsel, Bruce Sleeper, were congratulated for intervening on behalf of NNEPRA in the exhaustive legal battles before the DEP.
As a 'thank you' to all who traveled on and supported the Downeaster during this troubled year, NNEPRA has a special "Take five, Pay $5" promotional. For details, go here.