News Brief

Memories...TrainRiders/NE Chairman Wayne Davis looks back on
the Downeaster's Year-of-Success. Yes, it was a very good year!
Go here.
Year End Review from Wayne Davis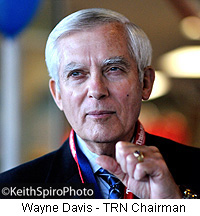 As we approach the last day of this year, we look back to what's taken place during 2014. It was a busy year, on both offense and defense. We set new travel goals and continued to defend NNEPRA's Brunwick Layover Facility proposal which is the key to more service which will lead to increased ridership.
In a time of special need, we received funds and moral support from many of you – and we sincerely thank you for that. We nevertheless continued to support passenger rail service throughout the region.
During 2014 we were able to: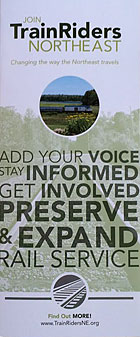 • Rebuild our image through new membership brochures, displays and banners working with one of Maine's premier advertising agencies.
• Work with NNEPRA to plan our Downeaster's future improvements and expansion.
• Hold our 26th Annual Meeting - featuring Ross Capon - long time executive director and past President of NARP.
• Participate and support NARP's Region One Annual Meeting in Boston as we've done for the past 27 years.
• Attend the Annual Meeting of the Vermont Rail Action Network, (VRAN), Vermont's Rail Advocacy group with whom TNE works closely in matters of Regional Rail.
• Set up a new TNE display at MDOT's Annual Meeting at the Augusta Civic Center where we premiered our new image.
We've also worked round-the-clock to support NNEPRA's choice for the Brunswick Layover facility (BLF). This included increasing public attendance at NNEPRA Board Meetings to express that support. In addition, we served as a resource for All Aboard Brunswick, a new and growing grassroots initiative of greater Brunswick citizens and business leaders who also support expanded service to Brunswick. We are also in the process of seeking to intervene in the upcoming DEP proceedings for the facility, action that will be ongoing in the coming year.
All of the above is in addition to our daily routine of managing the train host and station host programs, while working to complete our outstanding goals and objectives, including service from Maine through Worcester, Mass. to New York.
Again we appreciate your devotion to our mission and thank you for your continued support. We look forward to working with you – and wish you and yours the happiest of new years. Our Annual Meeting video is can be viewed here.