Amtrak, Downeaster & Vermont Railroads Set New Ridership Records
Each time Amtrak and our New England state-supported railroads report passenger data, new records are set.
Amtrak Report: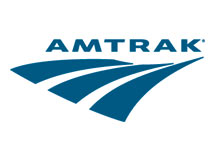 Amtrak's nationwide system carried 31,240,565 passengers in the fiscal year that ended September 30th. When Amtrak includes the Downeaster numbers in their fiscal year report, the Maine-based passenger service grew to a new record of more than 541,000 passengers, up 4.3% (Keep in mind, that NNEPRA's fiscal year is July-June and Amtrak's is October-September). NNEPRA recently reported that in their recent fiscal year they carried 528,000 passengers. Whichever report you use, the numbers are strong and getting stronger. You can view the full Amtrak press release here.
Vermont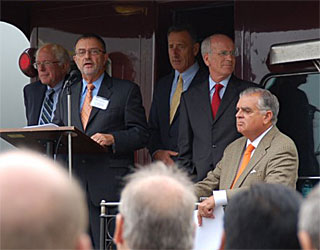 According to Amtrak, "the Ethan Allen (New York – Rutland, Vt.) was up 10 percent to more than 54,000 and the Vermonter (Washington – St. Albans, Vt.) was up 5.5 percent to more than 82,000."
The picture on the right show's Vermont state officials along with USDOT Secretary Ray LaHood and FRA Administrator Joseph Szabo celebrating the completion of a $52.7 million project to upgrade and repair some 190 miles of track on Amtrak's Vermonter line. "The Vermonter project will grow our economy by moving people and goods more efficiently than ever before," said Secretary LaHood.
TRN board member and Executive Director of the Vermont Rail Action Network Christopher Parker is justifiably proud of the upgrades and as he points out, "Well, Vermont has officially claimed to be the first "high-speed" rail project in the country to finish. Never mind that the crossing signals still haven't been retimed, so the new speed limits are still in the future." We salute Christopher's tireless efforts to bring quality passenger rail service to Vermont. You can read the full USDOT release here.

Downeaster Expansion
The Downeaster's inaugural run to Freeport and Brunswick is scheduled for November 1st. Train #681 out of Boston will carry invited guests to special ceremonies at the two new stops. The train is scheduled to arrive in Freeport at 12:40 p.m. and Brunwick at 1:30 p.m. Both cities are excited about the arrival of passenger rail service to their communities as the Downeaster expands it's service along the Maine coast. TrainRiders/Northeast's initial vision, under the direction of Chairman Wayne Davis, for service between Boston and Brunswick is a solid foundation for improved service along the line and expansion to other cities in Maine - Lewiston/Auburn, Augusta and Waterville. Stay tuned. {jcomments on}