TrainRiders/NE's Annual Meeting Celebrates Nov 1st Start of Expanded Service to Freeport & Brunswick
24th Annual Meeting Applauds the Scheduled Expanded Service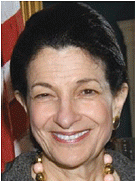 September 13th was a grand day for a celebration. Some 125 TRN members and friends gathered at the Harraseeket Inn in Freeport to celebrate the Nov 1st launch date of the expanded Downeaster service to Freeport & Brunswick.
Chairman Wayne Davis hosted an impressive list of speakers who addressed issues pertaining to passenger rail service in Maine, New England and the nation.
Senator Olympia Snowe, Maine's senior senator, lauded TRN chairman Wayne Davis' vision that initiated a long process that ultimately resulted in the successful launch of Downeaster service in 2001. (Since the US Senate was in session, she appeared electronically)
David Bernhardt, Maine Commissioner of Transportation, spoke passionately of his dedication to supporting NNEPRA Executive Director Patricia Quinn's continuing efforts to improve passenger rail service in Maine.
Ross Capon, Executive Director of NARP, praised Wayne Davis' determination in pursuing what many thought was an "impossible dream" of bringing Amtrak service back to northern New England. He also detailed the difficult funding challenges ahead as the US Congress grapples with budget-cutting proposals.
Michelle Muhlanger, FRA Deputy Regional Administrator, Region 1, praised the grant-writing capability of Ms. Quinn and her staff that resulted in a federal grant of $38.5 million for expanded construction.
Patricia Quinn, NNEPRA Executive Director, enthusiastically presented the impressive Downeaster numbers - from ridership to revenue. She referred to the new Brunswick/Freeport schedule as but beginning of connecting mid-coast Maine to the nationwide Amtrak service. The timetable can be viewed here.
Are you a member? If not, time to get on board! Sign up here.
{jcomments on}