Action Alert!
Details

Written by TRN Webmaster

TRN Webmaster

Published: 21 August 2014

21 August 2014
ACTION ALERT! ACTION ALERT! ACTION ALERT!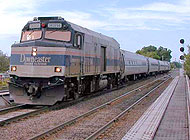 It's time to add your voice as a Downeaster supporter.
Phone calls are still preferred – [Governor Paul LePage – 207-287-3531 or toll free 1-855-721-5203] and simply identify yourself and your town and say that you are calling to have your name added to the list supporting the position of the Northern New England Passenger Rail Authority (NNEPRA) to construct the Downeaster Layover Facility in Brunswick on the site authorized by the Federal Rail Administration (FRA).

You can leave the same message for the Commissioner of Transportation, David Bernhardt at 207-624-3003 or email him at This email address is being protected from spambots. You need JavaScript enabled to view it..

Thanks for whatever you can do.
Wayne Davis, Chairman
TrainRiders NorthEast
ALERT FOLLOWUP:
One of our board members just dialed the governor's office and reports the following:
"Talked with a very polite woman in the governor's office who passed me on to the 'Governor's Hotline.' Left a recorded message supporting NNEPRA's Brunswick Layover Plans. Keep in mind that the layover facility affects all Downeaster riders regardless of state since the BLF will result in more trains and passengers between Brunswick and Boston. It will also protect the trainsets and maintenance crews from wintry weather. You don't need to be a Mainer to call in and leave your opinion."