NNEPRA Board Meeting - May, 2011
NNEPRA's Executive Director, Patricia Quinn, passed on the "fantastic" news regarding the Downeaster's ridership and revenue performance:
Ridership - April, 11 was 12% above April of 2010 (48,101 vs 42,786)
Revenue - April, '11 was 13% above April of 2010 ($5,898,955 vs $5,517,830).
City Pair Ridership:
Portland-Boston 17,526
Exeter-Boston 7,109
Durham-Boston 3,405
Wells-Boston 3,400
Saco-Boston 3,776
Dover-Boston 4,208
Haverhill-Boston 2,154
On Time Performance averaged 81% in April of 2011
May promises to be another month of growth when the numbers are completed.
The Public Comment portion of the meeting saw two Brunswick citizens raise concerns about the proposed Overnight Maintenance Facility that would be built a short distance from the Brunswick Station. Nicole Vinal and Steve Fortier raised questions about the environmental impact on the abutting homes, including noise and diesel pollution.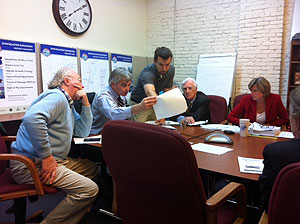 Mr Fortier, seen in this picture, is showing board members a town map of the area. Both said they are not against the expansion of the Downeaster to Brunswick, but wondered if the proposed site was the right solution.
Both Patricia Quinn and Board Chairman Marty Eisenstein said they were open to further discussions with the citizens group in an attempt to answer their concerns.