News Brief

Memories...TrainRiders/NE Chairman Wayne Davis looks back on
the Downeaster's Year-of-Success. Yes, it was a very good year!
Go here.
Brunswick Decision Likely in August and NNEPRA Celebrates 509,986 - What a Number!!!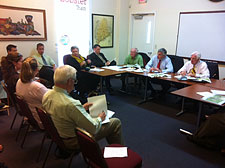 At this month's NNEPRA Board Meeting, there was extensive discussion between the board and members of the Brunswick Neighborhood Group. The group remains opposed on environmental grounds (emissions, noise, light and possible impact on property values) to locating the Downeaster Maintenance Facility between Church and Stanwood Streets. Board Chairman Martin Eisenstein announced that NNEPRA would hold a public meeting in Brunswick on August 18th to hear and discuss the final recommendation of the consulting firm that has been evaluating the three remaining sites. The board will then vote on the recommendation at its regularly scheduled meeting on August 22nd.
On the subject of ridership, NNEPRA announced that FY 2010-2011 was the first year to record more than half a million riders - 508,986! The Downeaster is one of the leading state-contracted Amtrak lines in the country and surpasses in ridership most of Amtrak's long-distance trains (excluding the Northeast Corridor).
Other items:
Executive Director Patricia Quinn praised the training and professionalism of the Downeaster crew that was involved in the fatal collision in North Berwick. It was "quick-thinking action by the engineer as his cabin filled with flames, and the calm evacuation of 112 passengers by the conductors that kept injuries to a minimum," said Ms. Quinn.
Ms. Quinn reported on the High Speed Rail rescission passed by the house which, among other items, would return to the Treasury some $21 million slated to improve Downeaster/MBTA tracks in Massachusetts. The bill goes to the Senate where it is unlikely to pass.
Work continues on the expansion to Brunswick. In Portland, crossings continued to be upgraded.
On Time Performance for June was 73%.