News Brief

Memories...TrainRiders/NE Chairman Wayne Davis looks back on
the Downeaster's Year-of-Success. Yes, it was a very good year!
Go here.
NNEPRA Board Meeting - May, 2012
The NNEPRA Board Meeting took place on May 21st at their offices in Portland.
First on the agenda was the third quarter FY2012 report. NNEPRA Executive Director noted that the Downeaster continues to show "solid growth." (Click on 'More' to view spreadsheet and news.)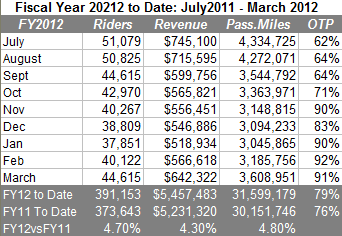 Other Items:
A presentation on the Thompson Point Development was viewed by the board. Ground breaking is expected in August of this year with completion in February of 2014. The $100 million entertainment/sports/hotel complex will be right across the tracks from the Portland Transportation Center.

The board was pleased at the public support shown at the recent Freeport/Brunswick platform dedication events and a video of the ceremonies was shown.


PanAm now has 55 workers installing ties and signal equipment. Last week, some 3,000 ties were placed with some 10,000 to go. NNEPRA is confident that the Downeaster Extension will be completed in time for fall service.

Jonathan Carter, Town Manager of Wells, spoke to the board regarding additional revenue sources for station operations. He proposed a $1 ticket surcharge on Downeaster tickets with a portion of that revenue (based on the previous year's station passenger statistics)

be granted to the town for operations, marketing and special projects. Saco's development officer, Peter Morelli, was present to offer his support for the proposal. Board members discussed the issue, pointing out that "ticket price sensitivity" was of constant concern; equitable administration of such a program would be difficult (for example, would a Wells to Portland rider pay the same $1 surcharge as a Wells to Boston rider?) and Amtrak ticket policies would likely preclude such a surcharge. Board members noted that many towns charge for parking to offset their station operations' costs, however, Mr. Carter noted that in Wells' case the Turnpike Authority owns the station property/parking lot and that board had already turned down the idea. During the public comment period, Wayne Davis of TRN noted that many stations across the country face similar revenue issues and they use creative ways to raise funds, including fairs, farmers' markets and suppers. The board concluded that further study was needed.

NNEPRA's Marketing Director Natalie Allen updated the board on Downeaster marketing plans for the summer. The 'Train to Maine' campaign will be seen again in Boston. She noted that last year's marketing effort had recorded an 11% increase in northbound passengers to the Pine Tree State.

{jcomments on}