NNEPRA Reports FY 2012 Sets All-time Record!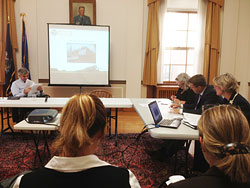 The public acceptance and use of the Downeaster continues to push ridership to new highs and continues to increase the value of this Amtrak service to the passengers and businesses along the route in Maine, NH & the Boston area. The efficient and enthusiastic management of the state's rail authority, led by Patricia Quinn at NNEPRA, was on display as they presented, in the Maine State Room at Portland City Hall, their Year End Report.
Ridership exceeded 528,000 passengers in FY 2012, 4% above last year and revenue hit $7.4 million for the twelve-month period. The details of NNEPRA's Year End Report are fascinating and validate the early vision of TRN in persuading the public and the legislature that a return of passenger rail service to Maine made sense. Build it and they will come! Freeport and Brunswick join the route in November.