October, 2012 NNEPRA Board Meeting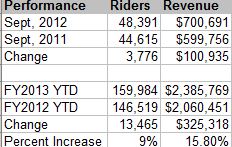 The atmosphere couldn't have been more upbeat as NNEPRA Executive Director Patricia Quinn reported on September's performance statistics and commented on the much anticipated Inaugural Run to Freeport and Brunswick on November 1st. Of the performance states, Ms. Quinn characterized them as "phenomenal."
Her analysis stated: "The first quarter of FY2013 was record setting for the Downeaster. All-time high monthly ridership of 53,740 in July was surpassed in August when ridership soared to 57,853. Fiscal year to date, the Downeaster has transported 159,984 passengers, the equivalent of 13.3 million passenger miles, generating $2.3 million in revenue. This represents a 9% ridership increase and a 15.8% revenue increase over the first quarter of FY 2012."
OTP:
On Time Performance: 90.3%
Customer Satisfaction:
Downeaster: 93
Amtrak: 84
Expansion:
The PANAM crews have finished the mainline work so that the Downeaster will be able to proceed unimpeded, though ancillary work will continue through November. A full-speed test run will occur within the next few days. The Amtrak geometry car has checked the track and given a 'go' to PANAM and NNEPRA. The recently released timetable will need some 'tweaking' (likely in the 5 minute range) so that north and southbound trains meet at appropriate sidings.
Inaugural Train:
Train #681 will make the inaugural run from Boston on November 1st. It will be a 'special train' carrying federal, state and local guests. There will be a departure ceremony in North Station and ribbon-cutting events in Freeport and Brunswick. Train #688 will be the first revenue train on the expanded line, departing Brunswick for Boston at 5:50 p.m. Ticket sales at the two Maine stations are already strong, according to Passenger Services Manager Brian Beeler.
Bicycles:
A member of the Maine Bicycle Coalition questioned the board on how Wells could once again become a bicycle boarding station. Such boardings had been discontinued due to safety and operational issues (explained in our September NNEPRA Board minutes). Ms. Quinn expressed disappointment that the decision had to be made but pledged continued efforts to examine how Wells could be returned to its original status. As of now, Brunswick, Portland and Boston can handle bicycles due to their long platforms.

Three cheers for the Downeaster!!!{jcomments on}