Quick Note: Train Host Program

TrainRiders/NE Train Hosts serve as goodwill ambassadors onboard the Downeaster to assist passengers with information; assist train crews in duties as requested by them; and promote rail safety.
As a volunteer, you'll travel between Maine and Boston conversing with passengers along the way.

Click on "Host Program" in the above menu for more information.

NNEPRA Board Meeting Details First Half of FY 2013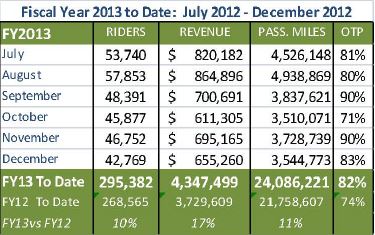 The numbers continue to grow as NNEPRA reported the results of the first half of FY2013.
The chart shows ridership increased 10% over the same period of FY2012 - revenue increased 17% and On Time Performance was at 82% in the first half of FY2013, as opposed to 74% in FY2012.
Rider Profile:
59% of riders travelled to or from a Maine station generating 69% of ticket revenue.
30% of riders travelled between NH stations and Boston generating 24% of revenue.
30% of total riders travelled using multi-ride passes, generating 15% of total revenue.
These statistics reflect the expansion of service to Freeport and Brunswick.
January Statistics:
Ridership increased over January of 2012 by 1,095 to 38,946. Revenue increased by $38,211 to $557,145.
On Time Performance average 81.50%
Overall Customer Satisfaction Score for December of 2012 was 92% - Amtrak overall was 87%.
Schedule changes:
The Downeaster's Spring/Summer Schedule is expected to begin on April 1, 2013. While these changes have not yet been completely confirmed, the proposed changes are as follows:
Train 687 will return to its 5:40pm departure slot from Boston.
Train 688 will return to its 7:55pm departure from Portland, meaning it will depart Brunswick at 7:00pm and Freeport at 7:15pm respectively.
Train 689 will return to its summer departure time from Boston of 11:20pm

Service to Old Orchard Beach (all trains) will begin.{jcomments on}