Downeaster's FY2013 Performance to Date Maintains Performance Growth
FY 2013 to Date:

What happens to year-to-date Downeaster ridership and revenue figures when, in the third quarter, 18 trains are cancelled due to February storms and bridge reconstruction in Massachusetts results in 20 trains being cancelled and 28 more prohibited from getting to Boston? The answer is that FY2013 to date still delivers a 6% ridership increase and revenue growth of 12% (over the first three quarters of FY 2012)! The NNEPRA report goes on to note that ridership during the February school vacation week was 7% higher than last year as larger school groups ride the train.
Nine Month to Date Statistics
Average daily ridership: 1,605
Average Passenger Fair: $14.72
Average Miles per Passenger: 83
57% travelled to or from a Maine station generating 68% of ticket revenue.
31% travelled between NH stations and Boston generating 25% of revenue.
On Time Performance
FY13 to date average: 85%, March, 2013 - 91%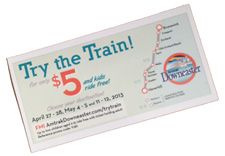 Remaining Bridge Reconstruction Outrages Until Fall (Service Continues Between Brunswick & Exeter, NH)

April 27 & 28
May 4 & 5
May 11 & 12
NNEPRA has come up with a nifty way to keep those trains carrying 'weekenders' on the above 'No Boston Service' days - offer a $5 ticket between Brunswick and Exeter and point in between. Already hundreds of passengers have reserved their seats and kids ride free (Up to two children aged 2-15 ride free with ticket holding adults. Code: V581). There is no code for the adult ticket. More details on the Downeaster website.
New Schedule - April 29th
NNEPRA is tweaking the schedule near the end of this month AND adding weekend train shuttle service between Brunswick and Freeport. More on the Downeaster website.
National Train Day - Saturday, May 11th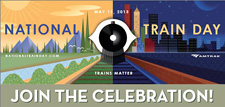 Amtrak has selected Brunswick as the station along the Downeaster route to celebrate 'Trains Matter.' A Downeaster train will be at the station and open for tours (including Cafe Car samples) from 11 a.m. to 4 p.m., along with travel ideas, kids features and NNEPRA, Operation Lifesaver and TrainRiders/NE booths. Meet those who: BROUGHT you the train (Wayne Davis and TrainRiders' board members), MANAGE the service (Patricia Quinn & staff), RUN the trains (Amtrak crews) and EMPHASIZE SAFTEY (Maine Coordinator Fred Hirsh of Operation Lifesaver - safety exhibit plus two model train layouts).
P.S.
The TrainRiders/NE and city volunteers who host on the trains and at the stations along the route send a 'thank you' to NNEPRA for the Appreciation Luncheon held earlier this month. The food was great and the briefing from Patricia made us feel that we are an integral part of America's Favorite Train.{jcomments on}