News Brief

Memories...TrainRiders/NE Chairman Wayne Davis looks back on
the Downeaster's Year-of-Success. Yes, it was a very good year!
Go here.
NNEPRA July 22nd Board Meeting - Downeaster Surpasses Previous Year's Record
Executive Director Patricia Quinn of NNEPRA released the good news: June Performance Statistics propelled the Downeaster to record ridership and revenue numbers for FY 2013.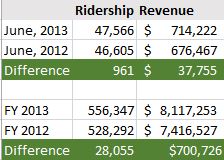 In June of 2013, 47,566 riders took the Downeaster while in June of 2012, the number reported by Amtrak was 46,605. June, 2013 revenue was $37,755 ahead of last June. FY 2013 ridership and revenue growth again were both plus items in NNEPRA's spreadsheet. An End-of-the-Fiscal-Year report will be issued once the data of this "very successful year" is fully analyzed.
Ms. Quinn noted that starting in October, Amtrak will be releasing ridership numbers based on electronic counting (iPhones scanning actual passenger tickets). This could result in a 12-15% reduction in the reported ridership because Amtrak currently assumes that a monthly pass-rider takes 5 roundtrips weekly (20 roundtrips per month) even though he or she may only commute three or four times a week. This will affect the entire Amtrak system.
On Time Performance was 72.20% while Overall Downeaster Customer Satisfaction scored an impressive 95% (May, 20013) as compared to Amtrak's Overall Customer Satisfaction of 87% (May, 2013).
Fare increases will be proposed shortly, to go into effect in October.
Brunswick Advisory Group
Two members of the Brunswick West Coalition continued to raise concerns about the about-to-be-built Layover Facility and its impact on the neighborhood's environment. Ms. Quinn assured them that their concerns had been addressed in the Advisory Board's meetings and within the Environmental Assessment document that was sent to the FRA. Once that is returned and finalized, NNEPRA intends to hold a public meeting in Brunswick and if helpful, will schedule other public meetings. One member of the coalition requested that the Advisory Group's meetings be audio recorded so that those not present could hear the discussion. The board agreed with the suggestion.
The board declined a request from Brunswick Senator Stan Gerzofsky to establish a Mitigation Committee to investigate the envrionmental issues associated with the Layover Facility. The board agreed that the existing Advisory Group was dealing directly with those issues and another committee was not needed.
Downeaster Conductor Concerns
In an effort to improve the efficiency of the Downeaster operation, NNEPRA staff has been investigating a number of cost-saving measures. During public comment, two Downeaster conductors raised concerns about one of those measures, the possible elimination of assistant conductors on the Portland-Brunswick run. They cited safety, passenger service and contract issues that would, in their opinion, be a "step backwards" for the service. Board Chairman Marty Eisenstein and Ms. Quinn thanked them for their input and assured them that while it was the obligation of the organization to consider and evaluate all options, no decision had been made to eliminate assistant conductors.
We look forward to the NNEPRA analysis of FY2013 - a year of growth in spite of multiple challenges, from cancelled trains due to bridge reconstruction and Mother Nature's constant barrage of angry weather.{jcomments on}