News Brief

Memories...TrainRiders/NE Chairman Wayne Davis looks back on
the Downeaster's Year-of-Success. Yes, it was a very good year!
Go here.
Fiscal Year 2013 - A Significant Accomplishment!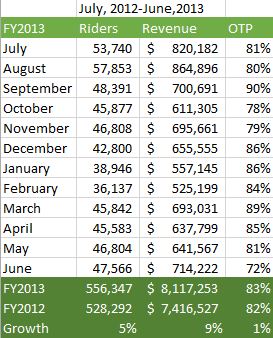 Executive Director Patricia Quinn reported that FY 2013 was "the best ridership year ever. Ridership again broke records, exceeding 556,000 riders, which was a 5% increase over last year's record of 528,000." She continued, "Increases in ticket revenue were even more significant, exceeding $8.1 million, and surpassing the FY12 record of $7.4 million by 9%."
Her report noted that the year saw many challenges: a hurricane, a heat wave (slow orders), bridge outages (cancelling service to Boston) and terrorism-related cancellations. However, FY13 was the year of expanding Downeaster service to Freeport and Brunswick - ridership continues to exceed projections by almost 50%.
Other FY13 Statistics
Average Daily Ridership: 1,524
* Weekdays: 1,633
* Weekends: 1,295
Rider Profile
*55% of riders travelled to or from Maine - 66% of revenue
*31% of riders travelled to or from NH stations & Boston - 25% of revenue
*31% of riders travelled using a multi-pass - 16% of total
Ms. Quinn's Performance Report ended with this statement: "Since December of 2001, the Downeaster has transported more than 4.5 million people the equivalent of 367 million passenger miles and has geneated nearly $64 million in ticket revenue.
Other Items
On Time Performance averaged 83% for FY13.
September 14 &15 (a Red Sox-Yankees weekend series) will see no service to and from Boston due to continued work on the historic Shawsheen Bridge.
The Brunswick Layover Facility design is being updated. The Environmental Assessment Draft Report was submitted to the FRA. The FRA made several comments which are now being more fully answered by NNEPRA. Ms. Quinn reported on the latest Brunswick Advisory Board meeting informing those present that once the FRA returned the final Environmental Assessment Report, a public meeting would be held in Brunswick. There will then be a 30-day period of public comment and all remarks, both concerns and support, will be forwarded to the FRA for decision.
FY 2013 was a very good year!{jcomments on}