February Report, Oversight Committee Audit & McEvoy Resignation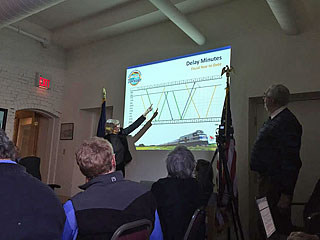 Performance Report: Amtrak failed to get complete numbers to NNEPRA in time for a full report. Exec. Dir. Patricia Quinn did state that February was a "bad month." Available February numbers showed 29,317 riders, down 23% from the same period last year - 38 trains were cancelled in February due to bad weather. Remarkably, revenue is down but 1% year-to-date, due in large part to lower fuel prices and lower payments to PanAm because of cancellations. PanAm is to start moving some 22,000 ties to locations along the line for replacement whenever spring actually shows up. Patricia pointed out that there will be mid-day train cancellations during the six week tie replacement period. Ms. Quinn discussed the new train schedule which should help return the trains to better on time performance.
Watchdog Committee: Augusta's Office of Program Evaluation and Government Accountability will launch a preliminary review of NNEPRA's operations in the coming weeks. Ms. Quinn noted that regular audits by the Federal Transit Administration and the Federal Railroad Administration have repeatedly found no issues of concern ('no findings'). Those audits also are reviewed by the Maine DOT Commissioner. Ms. Quinn said it was troubling to be questioned about 'transparency' when all inquiries are handled equitably and all data is available on the website. Several members of the public congratulated Patricia on responding openly to questions from interested parties and the public. The Augusta audit was instituted by Sen. Gerzofsky of Brunswick, who is openly critical of NNEPRA. He has also introduced a bill to limit the idling of passenger train engines to 30 minutes - Ms. Quinn said passage of the bill would "jeopardize Downeaster operations." It would, among other things, eliminate the Portland overnight layover - without that, there's no Downeaster.
Monthly Pass Discount: Ms. Quinn proposed giving monthly pass riders a discount of up to $50 in May as a 'thank you' for sticking with the Downeaster during the months of cancellations and slow orders. The board approved the discount.
Board Member Resigns: Robert McEvoy sent a letter to the governor offering his resignation from the NNEPRA Board. In the letter, he criticized Board Chairman Marty Eisenstein and Patricia Quinn for failing to listen to his advice and TrainRiders/Northeast Chairman Wayne Davis for opposing his nomination. You can read his entire letter here. Actually, he's resigning because he's moving out of the state to start a new chapter in his life. The board accepted his resignation.