April NNEPRA Board Meeting & Brunswick Town Council Session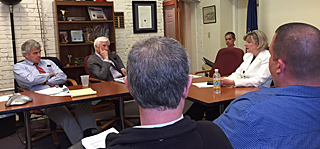 Downeaster Performance:
It was a busy day for NNERPA Executive Director Patricia Quinn as she dealt with declining ridership and on time performance numbers amid growing train cancellations due to track work and extensive slow orders.
March, 2015 ridership numbers declined from 44,215 last year to 37,318 this year. February saw ridership decline by 6,797 passengers and February OTP was...4.7%. FY2015 has seen some 157 trains cancelled - hard to carry riders when the trains aren't running.
Track Maintenance:
Starting May 4th and lasting for six weeks, mid-day trains on Mondays-Fridays will be cancelled to allow PanAm to complete the installation of some 22,000 ties. Six trains will be running during that period: #680, #682, #685, #687, #688 & #689 - delays are expected. All weekend trains will run as scheduled.
Brunswick Idling:
Responding to requests from the state Joint Transportation Committee and the Town Council of Brunswick to reduce idling time in Brunswick, NNEPRA is proposing that a temporary 480-volt track-side power unit be installed at the Church Road end of their layover property. It was pointed out that the electrical connection would not halt all idling, as the GE engines regularly monitor themselves and, if necessary, take corrective action - for example, restarting the engine when temperatures go below 45 degrees. The board supported the staff recommendation, but before approving the estimated $60-$80 thousand expenditure, asked for feedback from the Brunswick Town Council.
Town Council Meeting: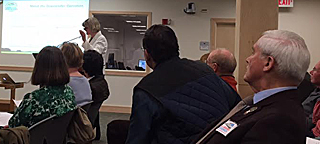 In the evening, Ms. Quinn appeared before the Brunswick Town Council to update them on the proposed layover facility and to set-the-record-straight on certain misleading perceptions propagated by the opposition (that's a euphemistic phrase for 'rumor mongering').
One rumor was that other trains might use the facility (the MBTA!) - Ms. Quinn firmly said that was "out of the question." The heavy maintenance rumor had to be spiked again as one councilman asked if there would be any "heavy cranes for that purpose in the building?" "No," said Ms. Quinn. "It's for light maintenance, there are no heavy cranes or pits below the trains." She assured the council that the Downeaster service is confined to Brunswick through Boston and would not expand. If additional feeder services from other Maine cities are approved, they would most likely connect to the system in Portland.
The temporary track-side power hookup was also discussed briefly, but the council decided that the details would be explored next Monday evening.