News Brief

Memories...TrainRiders/NE Chairman Wayne Davis looks back on
the Downeaster's Year-of-Success. Yes, it was a very good year!
Go here.
May, 2015 - NNEPRA Board Meeting
Patricia Quinn, Executive Director of NNEPRA, summarized the current Downeaster service this way: "It's pretty much a mess."
Track Work:
By the end of this month, some 276 trains will have been cancelled in FY2015 due to track work. The work to replace some 22,000 ties on the PanAm line has seen 8,750 replaced and another 13,600 remaining. So far, ties have been replaced on 22 miles of track but only three of those miles have been tamped properly for normal speeds. Tamping equipment has been the Achilles heel of this ongoing project. PanAm had sent one of their machines out for rehab in anticipation of a May 1st start - unfortunately, it came back three weeks late! Amtrak has now joined the battle and is supplying a tamper. It had been delayed due to the Philadelphia train wreck.
Performance Report:

FY2015 to date has been the Downeaster's "most challenging year yet," said Ms. Quinn. Ridership declined as travelers made other transportation plans and as a result, revenue decreased.
One encouraging statistic comes from the customer satisfaction survey conducted on the Downeaster. Under the cirumstances, the Customer Service Index remains high. The Downeaster rated an 85 overall as compared to Amtrak's 83. Patricia attributed the high score to the quality of the crews and the willingness of most passengers to understand the reality of the current difficult situation. July promises a return to normalcy.
Brunswick Layover Facility
Ms. Quinn briefed the board on the latest BLF maneuverings. She reported that the Brunswick Town Council, after extensive debate, took no stand on where the Auxiliary Power Unit should be installed nor the addition of compressed air. The following day, the Joint Transportation Committee in Augusta defeated Sen Gerzofsky's idling bill. The committee did recommend that compressed air be added to the front-end power installation. That unit would cost approximately $70-$80 thousand additional dollars and would have to be funded by the DOT. She reported to the board that the order for the APU had been placed and should be available to reduce engine idling by late July. The board reaffirmed their earlier decision to place the APU at the Church Road end of the proposed layover facility property.
The DEP decision on the Storm Water Runoff Permit is expected around mid-June.
Senator George J. Mitchell Award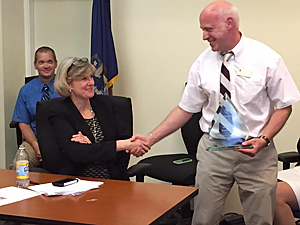 Annually, NNEPRA acknowledges the contributions of one individual whose dedication to public service best represents the character and drive of former Maine senator, George Mitchell.
Today, UNH Special Projects Director Steve Pesci was recognized for his role in campus-wide planning at the University of New Hampshire. The students, faculty and local residents have all benefited from his involvement in the Durham Downeaster station stop.