News Brief

Memories...TrainRiders/NE Chairman Wayne Davis looks back on
the Downeaster's Year-of-Success. Yes, it was a very good year!
Go here.
NNEPRA Board Approves BLF Construction Contract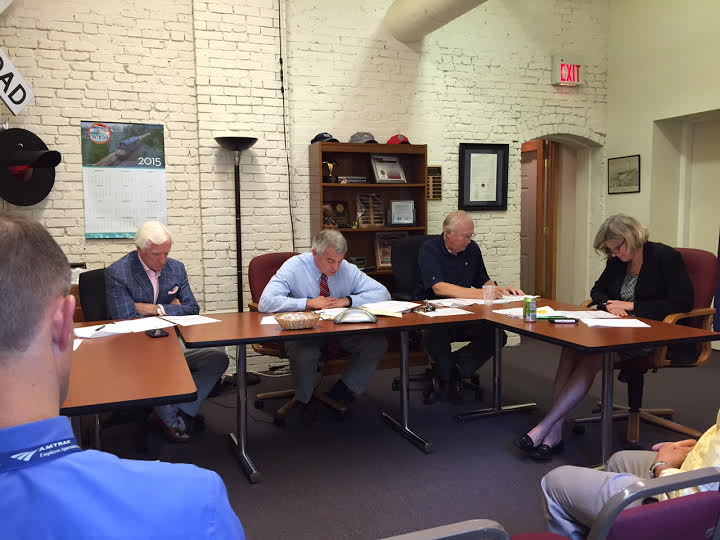 At 1:10 p.m. today the NNEPRA Board aproved the construction contract for the Brunswick Layover Facility. Cost not to exceed $13,717,459.
At 2:09 p.m. the opposition petitioned the DEP to stay the storm water permit pending their appeal. The appeal would be heard by the Board of the DEP.
The Board adopted various resolutions giving authority to Executive Director Patricia Quinn to negotiate any an all details with Consigli Construction of Portland - the Board Chairman or Vice Chairman would have final approval.
It was noted that this decision was based on the FRA's Environmental Assessment of the BLF - they issued a FONSI in June of 2014 (a Finding of No Significant Impact) as well as the recent approval by the Maine DEP of NNEPRA's storm water management permit.
Performance Report
May ridership was 22,727 as compared to 38,667 in May of 2014. May income was $393,556 as compared to $632,413 in May of 2014. A total of 452 trains have been cancelled to date in FY2015 due to track work. And for the first time in memory, On Time Performance was 0.00% and Overall Customer Satisfaction was 81%, below Amtrak's 83%.
On the good side, running time between Wells and Boston is getting very close to being on time. On the not-so-good side, surfacing crews appear to have stalled just beyond Wells. The summer season of expected high ridership is slipping away...