NNEPRA plans to begin construction of the BLF in September after "painful period." Ridership and revenue rebound.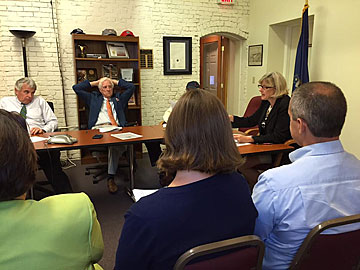 UPDATE: NNEPRA plans to begin construction of the Brunswick Layover Facility in September now that all necessary permits have been issued. Chairman Wayne Davis made this comment:


"After waiting for four years, it's about time. The Brunswick Layover Facility will increase on-time performance, enable another round trip, reduce environmental concerns, and serve the riding public with enhanced passenger rail service between Brunswick and Boston. It will be a real plus for the local economy."

Full story by Tom Bell at PressHerald.com.
NNEPRA Board Meeting
The NNEPRA Board met today. It was the first opportunity, since the "winter and summer of discontent," to report progress on the recovery of the Downeaster's ridership and revenue. Starting in May of this year through July 31st, some 8,000 tons of ballast, 25,000 ties, and 100,000 spikes were required to bring the PanAm tracks between Portland and the NH/MA border up to timetable speed. During that period, some 300 trains were cancelled to allow repair crews to work unimpeded.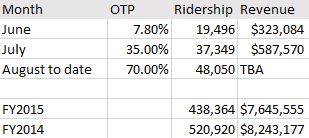 Executive Director Patricia Quinn walked the board, staff, and members of the public through the statistics. On Time Performance was a miserable 7.80% in June, July was somewhere in the 30s, and August to date is around 70%. Ridership is rebounding, from less than 20,000 in June to a more reasonable 48,050 in August to date. Revenue is also on the increase. As expected, FY2015 ended with lower ridership and revenue. The trend, however, is positive as slow orders are few and far between.
Speaking of slow orders, Ms. Quinn release a chart showing how many miles of PanAm track, from Portland to the NH/MA state line, had restricted speeds since April of 2014. You'll have a problem seeing this month's number because it is just 1 mile!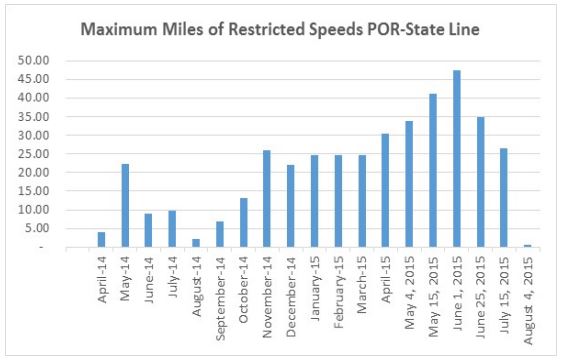 Communication:
During the construction turmoil, NNEPRA mounted a major effort to keep passengers up-to-date on delays and cancellations using multiple means:
Social media (Facebook & Twitter)
Email blasts every day to more than 800 registered passengers
Emails to station hosts
Flyers in stations and on train seats
Construction alerts on the Downeaster and Amtrak websites
Brunswick Layover Facility
With the rejection by the DEP of a "stay" of the approved stormwater permit requested by the Brunswick West Neighborhood Coalition, NNEPRA expects to begin construction of the facility in September.
The Auxiliary Power Unit is now up and running on the NNEPRA layover property in Brunswick. This was requested by the Legislature and is already reducing engine idling significantly. It was estimated to cost $78,000, but came in at $64,500.
Finally:
The Board congratulated the staff for extraordinary performance during the winter and summer of adversity.