News Brief

Memories...TrainRiders/NE Chairman Wayne Davis looks back on
the Downeaster's Year-of-Success. Yes, it was a very good year!
Go here.
January, 2016 NNEPRA Board Meeting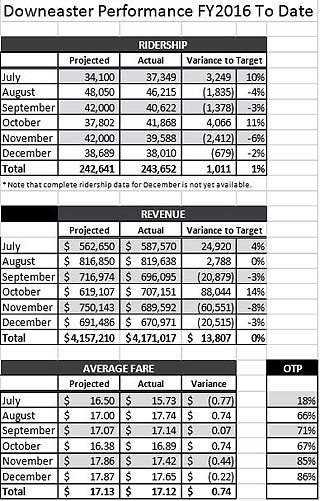 Included in this article is the performance section of today's NNEPRA Board Meeting. It details the return to more normal operations during the first half of FY2016.
Ridership & Income
As you can see, it was a rocky first half in terms of ridership. As we know, there were various reasons for under performance - initially the nearly unending cancellations due to the tie replacement project (July); the change in travel habits due to much lower gas prices; an MBTA bridge upgrade (December), the timing of which kept changing thus requiring reservation cancellations; and the commuter train conflicts and PanAm freight breakdowns. Those aren't excuses, those are the realities of multiple users on a one-track railroad (the PanAm section). Both ridership and income squeaked out a small gain for the first half of FY16.
On Time Performance
From July to December of 2015, On Time Performance showed steady growth ending up at 85-86% by the end of 2015. The railroad is now running without major slow orders, other than at Saco where bridge timbers over the river will require replacement (5mph). Just as OTP has recovered, so too has customer satisfaction. Finally, the Downeaster once again leads Amtrak satisfaction numbers by a significant amount.
Customer Satisfaction

Brunswick Layover Facility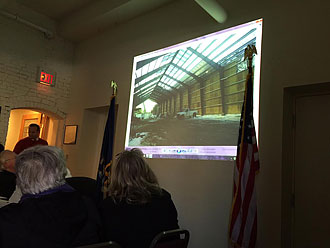 Consigli Construction continues to make signifcant progress. Jim Russell, NNEPRA's Special Projects Manager, took the board through a slide slow of the facility. The sides are now enclosed and the roof will likely be completed by next month. Then interior work can begin in earnest. 'BJ' White, the Downeaster's Road Foreman, waxed poetic at the meeting as he celebrated the impending end of a very bad story - he had made multiple trips to the hospital with frostbite as a result of working on the trains during previous winters.
Kennebunk
Patricia Quinn held out the possibility that Kennebunk could come online by this fall if appropriate work can be accomplished on a temporary platform
Finally
Ms. Quinn described the last half year as a "roller coaster." She suggested that ridership would be difficult to accurately predict in the coming months. It was good to hear several comments that trains were arriving at stations several minutes ahead of schedule!