Quick Note: Train Host Program

TrainRiders/NE Train Hosts serve as goodwill ambassadors onboard the Downeaster to assist passengers with information; assist train crews in duties as requested by them; and promote rail safety.
As a volunteer, you'll travel between Maine and Boston conversing with passengers along the way.

Click on "Host Program" in the above menu for more information.

NNEPRA Responds to Questions from Layover Facility Opponents at Brunswick Town Council Meeting
The Brunswick Town Council devoted much of its evening meeting this week to the Downeaster Layover Facility that will be constructed in a rail yard along the tracks in West Brunswick.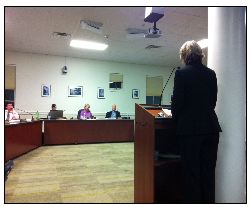 NNEPRA Executive Director Patricia Quinn presented a detailed explanation of the facility and the efforts to mitigate noise, pollution and vibration concerns which the Brunswick West Neighborhood Group continues to raise. Many of the group's members spoke in opposition to facility or the data presented.
Wayne Davis of TrainRiders/NE was present and was interviewed following the session by the Portland Daily Sun. In the interview, he pointed out the number of trains that stopping in Freeport and Brunswick is directly related to the construction of that key facility. Read more here.