AMTRAK'S 40TH ANNIVERSARY EXHIBIT TRAIN SHINES IN FREEPORT!
Details

Written by Wayne E. Davis (Board, Chairman)

Wayne E. Davis (Board, Chairman)

Parent Category: State News State News

Published: 17 August 2011

17 August 2011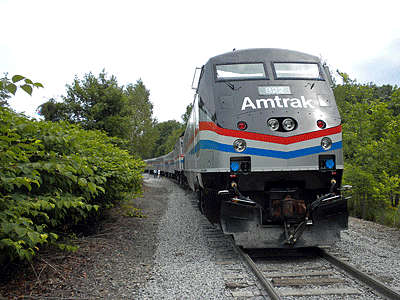 The exhibit train arrived in Freeport Friday afternoon the 12th in preparation for public viewing of the train on Saturday and Sunday, August 13-14. The train, coupled with two PanAm business cars and an F40 PanAm locomotive, was painted in PanAm's stunning cobalt blue livery.
The very shiny and freshly painted Amtrak sections included a P-40 diesel-electric locomotive and a non-powered-control unit to allow push-pull operation. Those units are arrayed in an historic Amtrak paint scheme. The air conditioned Exhibit Train also includes three baggage cars that have been renovated and transformed into exhibition space through the addition of display cases. The major events and achievements of Amtrak's four decades are conveyed through advertising materials, photographs, and other items.
Mannequins representing on-board staff and passengers wear vintage fashions, on loan from past and present Amtrak employees, and tables are set with china and flatware originally produced for trains such as the Southwest Chief and the Silver Meteor.
At the rear of the train, in a reconfigured Amfleet Cafe car, visitors were able to browse the gift shop. There were many items that commemorate the 40th Anniversary, including Amtrak: An American Story, an illustrated company history written by current Amtrak employees with chapter introductions composed by past and present Amtrak leaders. In addition, a documentary DVD exploring the history of Amtrak and its importance to the nation's transportation network was featured as well as a full selection of gift items - all of which may be viewed on the Amtrak 40th Anniversary website, <www.Amtrak40th.com>. A sleeping car, modified for use by the Amtrak Police Department as a Special Communications Car was also part of the consist.
On Saturday and Sunday, individual covered stands featuring Amtrak, Maine Eastern RR, Northern New England Passenger Rail Authority (NNEPRA), PanAm Rail, Operation Lifesaver, TrainRiders/Northeast and the National Association of RR Passengers (NARP) were set up around the entrance to the train. Trainriders/Northeast volunteers manned their own booth and also assisted with the coverage at the NNEPRA, Amtrak and NARP booths. Trainriders also supplied the docents on the exhibit train itself from 10 AM to 4 PM both days. As an added feature, David Fink, President of PanAm opened up the PanAm business cars for tours as visitors exited the exhibit train.
As the exhibit prepared to leave Sunday evening for Burlington, VT, Amtrak officials announced that the 2,100 folks who visited the exhibit in Freeport had set a new attendance record for the train as it tours America. {jcomments on}