Quick Note: Train Host Program

TrainRiders/NE Train Hosts serve as goodwill ambassadors onboard the Downeaster to assist passengers with information; assist train crews in duties as requested by them; and promote rail safety.
As a volunteer, you'll travel between Maine and Boston conversing with passengers along the way.

Click on "Host Program" in the above menu for more information.

Gov Lynch Vetos Bill to Eliminate NH Transit Authority
Details

Written by TRN Webmaster

TRN Webmaster

Parent Category: State News State News

Published: 16 June 2011

16 June 2011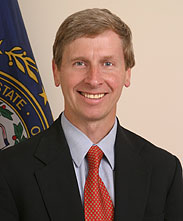 The governor of NH, John Lynch, has vetoed a bill that would have shut down the NH Transit Authority. Although both houses of the state legislature approved the bill, a "No" from the governor stopped this effort in its tracks.
The NH Transit Authority cost the state nothing and was an all-volunteer organization. New Hampshire had received a federal grant to study passenger rail between Boston and Concord serving Nashua, Merrimack, Manchester and Concord.
TrainRiders/NE opposed the legislation as had many public interest groups in New Hampshire. Article from the Boston Globe.