Quick Note: Train Host Program

TrainRiders/NE Train Hosts serve as goodwill ambassadors onboard the Downeaster to assist passengers with information; assist train crews in duties as requested by them; and promote rail safety.
As a volunteer, you'll travel between Maine and Boston conversing with passengers along the way.

Click on "Host Program" in the above menu for more information.

Updated NH Rail Plan Draft
Details

Written by TRN Webmaster

TRN Webmaster

Parent Category: State News State News

Published: 17 June 2011

17 June 2011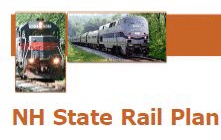 The NH DOT released an update to its comprehensive rail plan. As Steve Pesci noted in a comment, it is still in draft form.
It addresses both freight and passenger rail needs. The Lynch administration has a forward-looking vision of how rail can spur economic development for businesses and ease commuter and visitor travel in the state..
The latest draft is available here.