Updated NH Rail Plan Draft
Details

Written by TRN Webmaster

TRN Webmaster

Parent Category: State News State News

Published: 17 June 2011

17 June 2011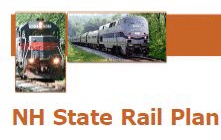 The NH DOT released an update to its comprehensive rail plan. As Steve Pesci noted in a comment, it is still in draft form.
It addresses both freight and passenger rail needs. The Lynch administration has a forward-looking vision of how rail can spur economic development for businesses and ease commuter and visitor travel in the state..
The latest draft is available here.