Quick Note: Train Host Program

TrainRiders/NE Train Hosts serve as goodwill ambassadors onboard the Downeaster to assist passengers with information; assist train crews in duties as requested by them; and promote rail safety.
As a volunteer, you'll travel between Maine and Boston conversing with passengers along the way.

Click on "Host Program" in the above menu for more information.

Exeter Riders Oppose Parking Fees at Downeaster Station
Details

Written by TRN Webmaster

TRN Webmaster

Parent Category: State News State News

Published: 09 September 2011

09 September 2011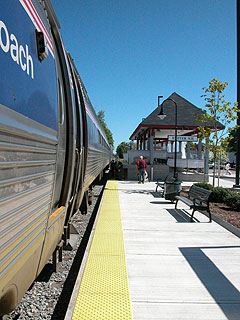 The Town of Exeter is proposing that the free parking spaces at the Downeaster Train Station be metered so as to increase town revenue.
The cost would be 50 cents an hour or up to $5.00 per day - costing those using public tranportation - the Downeaster - up to $100 more a month.
If adopted, Exeter would join Boston, Woburn, Haverhill, Durham (UNH property) and Portland as pay-to-park facilities. Old Orchard Beach has no separate parking facility for the Downeaster so all parking space are metered. Parking remains free at Woburn, Dover, Wells & Saco.
A public hearing was held on Thursday, September 8th. There was uniform opposition from Downeaster riders. An article on the hearing can be viewed on the Seacoast Online website.