Transportation Bill Compromise Maintains US Support for the Downeaster Thanks to Effort of Senator Snowe
Train riders from Portland to Boston can exhale a sigh of relief as the 27-month compromise transportation bill has gone to the president for his signature. Successful last minute efforts by Senator Olympia Snowe sealed the deal keeping federal funds flowing to the Downeaster. Here is a portion of Sen. Snowe's press release:
Provision to Preserve Downeaster Funding
Included in Final Highway Bill
Legislation also includes Snowe measure regarding veterans' commercial drivers licenses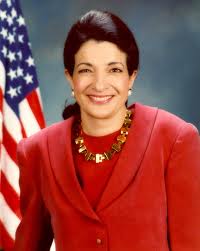 WASHINGTON, D.C. – A modified version of a measure introduced by U.S. Senator Olympia J. Snowe (R-Maine) to preserve funding for operation of the Downeaster rail service today passed the Senate as part of the final compromise Highway Bill package.
The measure allows states to utilize funding from the Congestion Mitigation and Air Quality (CMAQ) program for operation of the Downeaster. The bill also includes a Snowe amendment that passed as part of the Senate's version of the bill in March supporting veterans seeking to obtain a Commercial Driver's License (CDL). The legislation now heads to President Obama's desk for signature (It has now been signed).
"I am incredibly pleased my measures passed the Senate today as part of the highway bill," said Senator Snowe. "This bill includes my amendment saving funding for the Downeaster, which has time and again proven itself as an indispensable economic boon for Maine. Throughout my career, I have worked to ensure the long-term vitality of our state's rail system and the Downeaster could not be more critical as our state attracts commuters and tourists traveling throughout the Northeast."

BACKGROUND:

Downeaster:Since the 2005 highway bill, the Downeaster received the majority of its operating funding through the Congestion Mitigation and Air Quality (CMAQ) program. In 2005, Senator Snowe led the charge to ensure language was included in the bill to allow flexibility for CMAQ funding to be used for passenger rail services, specifically the Downeaster. The 2005 bill expired on September 30, 2009, and was subsequently extended eight times by Congress. Without Snowe's amendment, the highway reauthorization currently being debated would not allow the State of Maine to use CMAQ funding for the Downeaster's operating expenses. Therefore, the Downeaster would have lost nearly $6 million a year. Senator Snowe's amendment restores the flexibility for Maine and other states that were using CMAQ funding for operating expenses on September 30, 2010.
####End of Press Release####
NARP (The National Association of Railroad Passengers) took a broader view of the legislation and expressed overall disappointment with the results: NARP Website{jcomments on}