Amtrak Exhibit Train to Stop in Freeport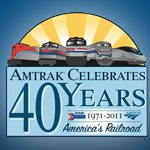 The Amtrak Exhibit Train, celebrating 40 years of passenger rail service in the US, will be open to the public on August 13 and 14 from 10 a.m. to 4 p.m. The train will be parked near the Community Center at Depot Street in Freeport.
The train contains historical memorabilia and exhibits, including a look at the future of High Speed Rail in America.
Representatives from TrainRiders/NE will be among those present to assist visitors with information about our organization and the successful growth of the Amtrak Downeaster. Come meet us and representatives from NNEPA, PanAm Railways, Maine Eastern Railroad, Amtrak and Operation Lifesaver.
Once this train departs, the next Amtrak train to arrive in Freeport and Brunswick will be the Downeaster in late 2012 as expanded service along the coast is inaugurated!
More here.{jcomments on}