Quick Note: Train Host Program

TrainRiders/NE Train Hosts serve as goodwill ambassadors onboard the Downeaster to assist passengers with information; assist train crews in duties as requested by them; and promote rail safety.
As a volunteer, you'll travel between Maine and Boston conversing with passengers along the way.

Click on "Host Program" in the above menu for more information.

DEP Visits the Brunswick Layover Facility Site
Details

Written by TRN Webmaster

TRN Webmaster

Published: 13 February 2015

13 February 2015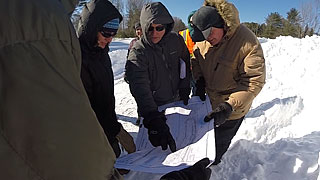 DEP Hearing Officer Laura Welles, along with environmental and engineering experts from Augusta, led a site inspection of the proposed Brunswick Layover Facility today in 10-degree weather.
This inspection was in preparation for the Public Hearing scheduled for March 25th in Brunswick (the site has yet to be identified due to the number of interested parties who are expected to attend). The hearing will take testimony on NNEPRA's request for a Storm Water Runoff Permit - the last regulatory hurdle before construction can begin.
Among those present were NNEPRA Executive Director Patricia Quinn; NNEPRA Manager of Special Projects James Russell (who had seen to it that the access was plowed and that critical elements of the architectural plans were marked off); several TrainRiders/NE representatives including Chairman Wayne Davis and representatives of the group opposed to the project.
The Public Hearing in March will concentrate on the storm water permit specifically, as all other neighborhood objections to the construction (air quality, noise, vibration and safety issues) were found by the Federal Railroad Administration to have "no foreseeable significant impact on the quality of the human or natural environment."