Quick Note: Train Host Program

TrainRiders/NE Train Hosts serve as goodwill ambassadors onboard the Downeaster to assist passengers with information; assist train crews in duties as requested by them; and promote rail safety.
As a volunteer, you'll travel between Maine and Boston conversing with passengers along the way.

Click on "Host Program" in the above menu for more information.

Boston Business Organization Passes Resolution Supporting the Downeaster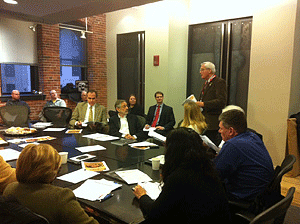 The Boston Downtown North Association, part of the Greater Boston Chamber of Commerce, passed on Tuesday a TrainRiders/NE resolution supporting the Amtrak Downeaster.
Wayne Davis, Chairman of TrainRiders/NE, presented the resolution to the board for discussion and approval.
Bob O'Brien, Executive Director of the Board, congratulated Wayne on his consistent, deliberate and effective advocacy for passenger rail in New England and the Downeaster service in particular.
This Boston business group joins municipal organizations from Freeport, Portland, Saco, Wells, Dover, Durham and Exeter in support of continued Amtrak/Downeaster funding in the face of political opposition in Washington. Approval by Brunswick and Haverhill organizations are pending.The resolutions are then sent to their respective Washington delegations.{jcomments on}