TRN Chairman Wayne Davis Comments on Continuing Brunswick Layover Facility Controversy - PPH Questions LePage Administration Motives - DEP Pledges 'By the Book' Review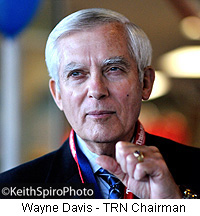 TRN Chairman Wayne Davis has spoken out on the continuing dispute over the Brunswick Layover Facility. In a Press Herald article, he concludes that Gov. LePage is "tinkering with the most successful train in the nation." There's more from Wayne, NNEPRA's Patricia Quinn, the DEP commissioner, the BWNC and other interested parties.
---------
UPDATE: The Press Herald's Editorial Board has just published a commentary on the LePage administration's renewed involvement in the Brunswick Layover Facility decision. Referring to the governor's opposition and the last-minute involvement of the DEP commissioner, they wrote:
"The state's involvement in a proposal over which it has no final say is a splashy and entirely symbolic move, and nobody should count on the heightened environmental concern on the part of the governor and his allies to outlast this fall's election."
The full editorial is well worth reading. Go here.
UPDATE: Bangor Daily News publishes additional details on DEP's involvement in Brunswich Layover Facility. The review (actually, re-review) of the BLF's Storm Drainage Permit will be "by the book." Read here.