Our New Vision
TrainRiders Northeast brought the Downeaster to Portland, ME in 2001 and Brunswick ME in 2012. Our New Vision: An across the platform, Amtrak connection at Boston's North Station, serving Worcester, Springfield, Hartford, New Haven & New York's Penn Station. Our continued success depends on your donation. Use our PayPal button to help us reach this goal. Many thanks for your continued support. Wayne Davis, Chairman
2019 - A Record Year for the Downeaster!!!
Details

Created: 01 February 2020

01 February 2020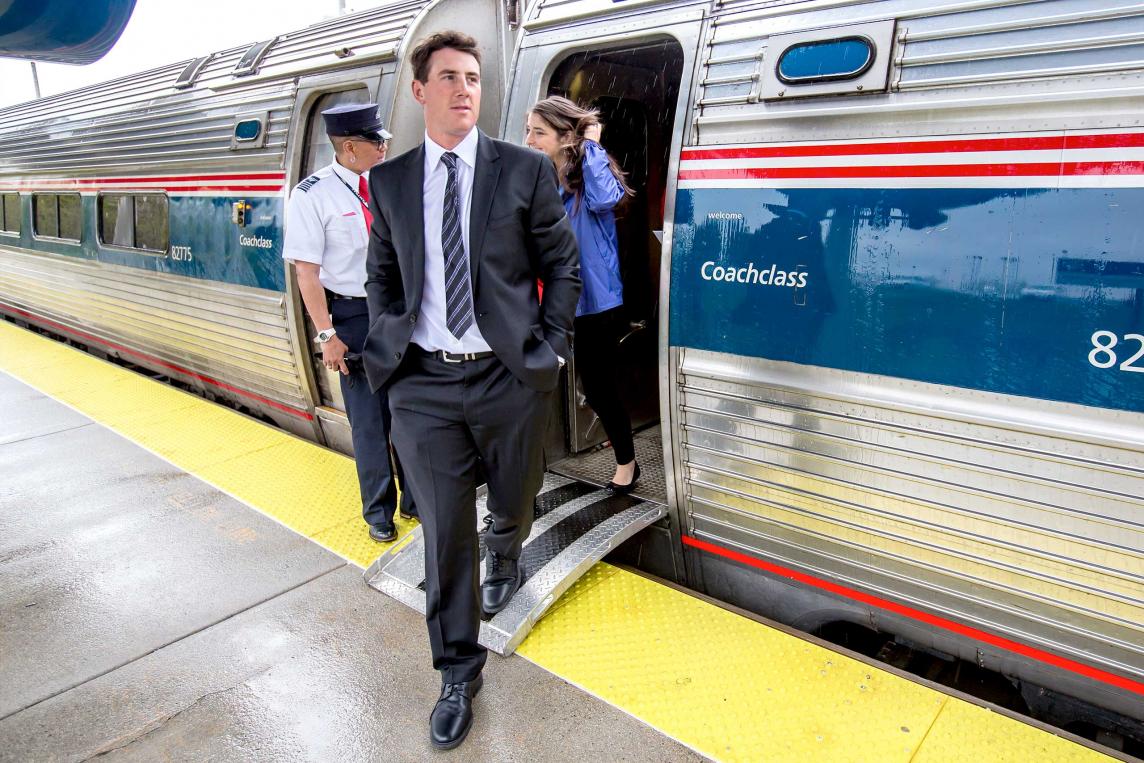 'America's Favorite Train' posted record-breaking ridership numbers in 2019!
NNEPRA announced that 574,404 passengers took the Downeaster last year, which was a 7.8% increase over 2017's record of 546,056.
Marketing Director Natalie Bogart reported that "August of last year saw an all-time record of 60,944 - the first time that Downeaster ridership had surpassed 60,000 passengers in a month."
In a press release, NNEPRA attributes the ridership surge to the "increased frequency to Freeport and Brunswick, improve reliability, as well as repeat riders. The Downeaster's Amtrak Customer Satisfaction score of 91% suggests that people are not only riding the Downeaster, but finding it to be enjoyable as well."
NNEPRA Board Chairman John Melrose spoke of the future, "We are committed to the continued growth of the Downeaster service and are working hard in 2020 to improve/expand transportation alternatives to further enhance mobility to our citizens and support economic growth for Maine businesses."
The service began on December 15th of 2001, and since then the Downeaster has been a trailblazer in passenger rail service!
The 31st Annual Meeting was a Huge Success!
Details

Created: 12 November 2019

12 November 2019
It was a grand meeting!!!
Among our invited guests were Patricia Quinn - Executive Director of NNEPRA, David Fink- President of Pan Am Railways and Bruce A. Van Note - Maine Commissioner of Transportation (Commissioner Van Note was unable to attend) and Maine Senator Susan Collins. Much is happening with passenger and freight rail in Maine and there was no better place to get a full briefing than at our Annual Meeting. In addition, we celebrated the Downeaster's 18th birthday!

Senator Collins
Senator Susan Collins, chair of the Senate Subcommittee on Transportation, was unable to join us but appeared via video from Washington. She has been instrumental in increasing Amtrak's budget and has been a friend and constant supporter of TrainRiders/NE.
NNEPRA Open House Shares Downeaster Planning Proposals
Details

Created: 23 October 2019

23 October 2019
The NNEPRA Open House, held yesterday in Portland, successfully brought together rail advocates and the public to hear an in-depth briefing by Executive Director Patricia Quinn about proposed Downeaster service enhancements.
Topics covered:
Wells track improvements

Inbound morning service from Wells to Portland and Brunswick

New location for Portland train station

New station in West Falmouth

New service between Westbrook & Portland

Lewiston-Auburn service
Again, these are proposals that NNEPRA is actively pursuing.
Unable to attend? Here's her presentation.
This was a well-organized gathering with color-coded dots for the attendees to express their passenger rail preferences. They gathered at tables...
Read more: NNEPRA Open House Shares Downeaster Planning Proposals
NNEPRA Open House!
Details

Created: 16 October 2019

16 October 2019
NNEPRA is holding an Open House on Tuesday, October 22nd at 4:30 PM. Executive Director Patricia Quinn will brief on expansion proposals for the Downeaster. It will be held at 20 Mrytle Street in Portland. Input from attendees is encouraged.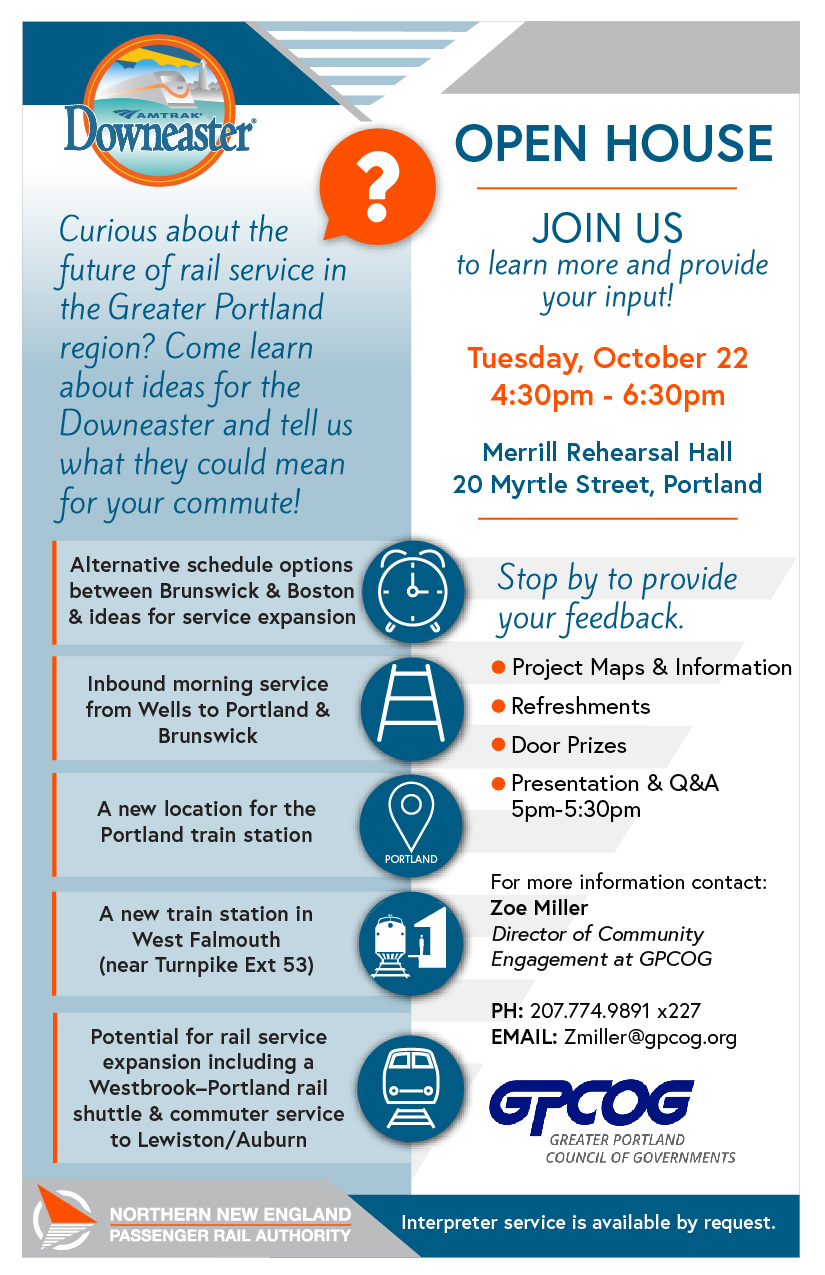 Amtrak Ditches Dining Car Service on Some Long-Distance Trains
Details

Created: 20 September 2019

20 September 2019
From Wayne Davis, Chairman, TrainRiders/NE
The most recent release from Amtrak titled "What's new, Amtrak? Rail service pledges improved dining, sleeping experience."
Improved???? I don't think so. One of the "improvements" starts off with "If you like traveling long distance via train but don't want to actually meet other people while doing it, Amtrak has a new option for you" Starting next month, Amtrak will add flexible dining options on four of its routes allowing passengers to take their dinners into their private rooms or have an attendant bring I to them" Improvement? New?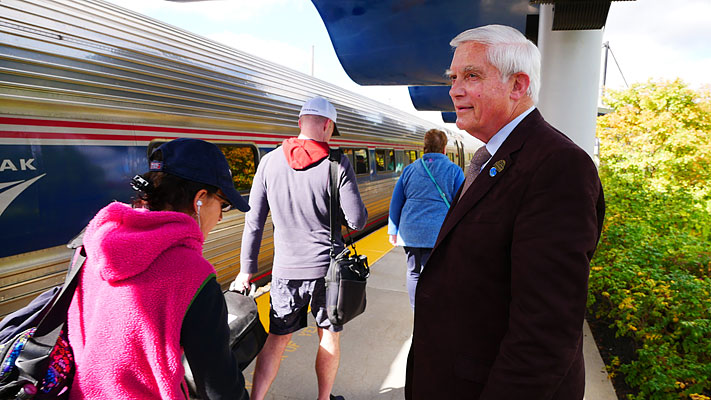 For the benefit of the new Amtrak folks – as a sleeping car passenger on countless Amtrak sleeping cars for the past 30 years, I've always had the option to have my meal brought to my room or walk to the diner and join with fellow passengers. The American way.
Read more: Amtrak Ditches Dining Car Service on Some Long-Distance Trains