UPDATE #3 - Nov. 21, 2011: TRN Chair Wayne Davis and board member Bob Hall comment on positive congressional action regarding the Downeaster. Go to Seacoastonline.com.
LATE UPDATE #2 - Nov, 14, 2011: The Senate/House Conference Committee has reported out a reconciled bill that preserves the Downeaster, as well as 14 other state-operated railroads, and continues Amtrak funding but at a lower level. All High Speed Rail monies were eliminated.
The original House bill would have eliminated the state-operated railroads and reduced Amtrak funding to 'draconian' levels. The Senate bill has essentially prevailed.
Now both houses of congress must approved the compromise bill and send it to the president for his signature.
The Press Herald has the story with quotes from Sen. Collins, TRN Chair Wayne Davis and NNEPRA Executive Director Patricia Quinn. Go here. NARP has a more detailed report on their blog.
================
UPDATE #1 - Nov 14, 2011: The word is out and the pressure is on as TrainRiders/NE continues to alert municpal authorities and organizations along the Downeaster route about the risks facing this service from congressional efforts to end state-supported Amtrak service. Newspaper articles have appeared recently from Portland to Boston and points in between - here's the Seacoastonline.com article.
While the threat to "privatize" Amtrak has now been withdraw by Representative John Mica (R-FL), chairman of the House Committee on Transportation and Infrastructure, serious reduction in Amtrak funding and elimination of state-supported service remains in the House version ot the transportation spending bill. The Senate bill lacks those disasterous elements but both need to be resolved in conference. It is expected that later today the reconciled bill will be published and we'll know if further action is required.
================
TRN Chairman with Saco Chamber of Commerce Board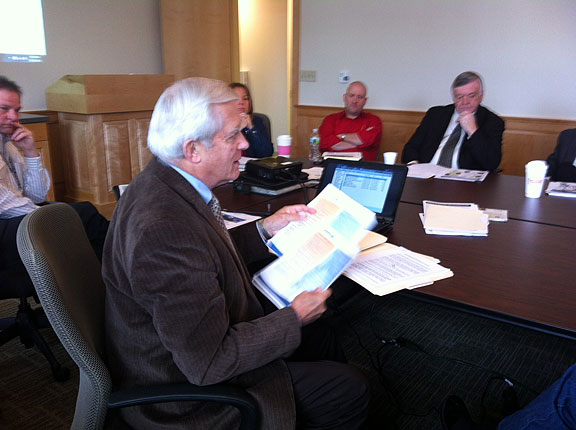 Chairman Wayne Davis of TranRiders/NE has inititated visits with municipal authorities 'along the line' to lay out the emerging threat to the Downeaster specifically and Amtrak in general. The first such meeting was held with the Board of the Biddeford-Saco Chamber of Commerce & Industry on October 19th. Chairman Davis shared with them the 10-year accomplishments of 'America's Favorite Train' and the impressive ridership figures for Saco - nearly 300,000 riders from 2001-2011! Here's the Saco 10-Year Ridership. A proposed Resolution of Support was presented to the board for their consideration.
Some 20 years ago, TrainRiders/Northeast rallied the public to petition the Maine State Legislature for passenger rail service that would connect Portland and intermediate stops with Boston. Nearly 90,000 signatures were gathered and that effort propelled Augusta and Washington to commit to a program that eventually brought the Downeaster to northern New England in December of 2001.
The Downeaster, which carried more than 500,000 passenger in the previous fiscal year, is now faced with a US Congress that has shifted from its traditional support of passenger rail to open opposition to state-funded Amtrak services, such as the Downeaster, and a direct effort to reduce Amtrak's overall budget to 'near death' levels.
There are allies in the Congress and they need our support; there are 'undecideds' who need convincing; and there are 'opponents' who need to understand that a groundswell of passenger and community concern can have political consequences for them.
Stay tuned for more news as we energize the communities that share a great accomplishment - more than 3.5 million riders in 10 years!{jcomments on}