Our New Vision
TrainRiders Northeast brought the Downeaster to Portland, ME in 2001 and Brunswick ME in 2012. Our New Vision: An across the platform, Amtrak connection at Boston's North Station, serving Worcester, Springfield, Hartford, New Haven & New York's Penn Station. Our continued success depends on your donation. Use our PayPal button to help us reach this goal. Many thanks for your continued support. Wayne Davis, Chairman
First Two Months of 2014 Show Solid Growth
Details

Created: 25 March 2014

25 March 2014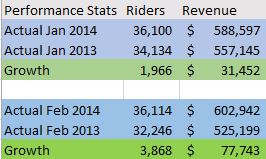 NNERPA Executive Director Patricia Quinn announced at today's monthly board meeting that Downeaster ridership had increased by a total of 5,834 riders during the first two months of 2014 as compared to the same period in 2013. Revenue demonstrated a similar jump, increasing by $109,195 over Jan/Feb of 2013.
NNEPRA Holds Pubic Forum on Improving Downeaster Service
Details

Created: 11 March 2014

11 March 2014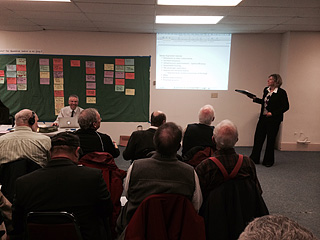 NNEPRA held a public meeting on Wednesday (March 19th) to discuss the Amtrak Downeaster Service Development Plan. It was a well-attended public forum that focused on extending Downeaster service to Lewiston-Auburn, Augusta and beyond New England to New York City.
TrainRiders/Northeast spoke in support of multiple extensions, particularly an effort to connect Maine through Worcester to Penn Station in New York, where a whole new market for travel to and from Maine awaits.
Patricia Quinn, Executive Director of NNEPRA, answered the many questions regarding currently needed improvements (double tracking, speed and frequency of service) as well as new feeder services to the Brunswick-Boston core of the current Downeaster.
Here is Trainriders/NE's summary comments passed out at the forum.
Here is Tom Bell's reporting on the session in today's Portland Press Herald.
NNEPRA Reports Growth in First Half of FY 2014
Details

Created: 24 February 2014

24 February 2014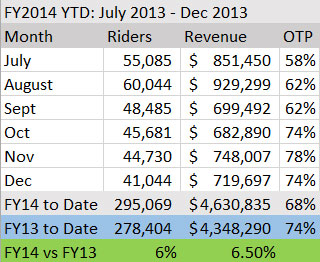 FY 2014 to date (6 months) is doing amazingly well, with a 6% ridership growth as compared to the same period in FY 2013. The spreadsheet shows some 295,069 riders in FY 2014 YTD as compared with 278,404 in FY 2013 YTD. Revenue exceeded the same period in FY 2013 by 6.5%, or $282,545.
Patricia Quinn, Executive Director of NNEPRA, reported that On Time Performance continues to disappoint with an overall 68% record during this reporting period. She explained that "issues impacting OTP are varied, but constrained capacity between Portland and Boston accounted for approximately 45% of all delays, while infrastucture defects (slow orders) accounted for 40% of the delays."
NNEPRA Reports Growth in 2nd Qtr of FY2014
Details

Created: 28 January 2014

28 January 2014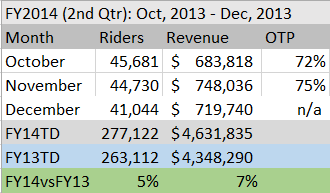 The Downeaster's performance continues on track as Executive Director Patricia Quinn reported on the second quarter of FY2014. Overall, when combined with the first quarter, ridership was up 5% and revenue grew by 7% over FY2013 to date.
On Time Performance remains troubling, due in large part to commuter and freight train delays.
The Downeaster's Overall Customer Satisfaction Score in December was 96%! When you take into account the delays which have affected 25% of the trains, the CSI score demonstrates that a welcoming and professional crew can keep riders satisfied even when they don't arrive on time.
Washington recently approved an "indefinite" extension of CMAQ funds for the use by state-sponsored railroads for operations (originally, the Congestion Mitigation and Air Quality funds were to be only used for three years in startup transportation projects). 80% of the Downeaster's operating budget comes from CMAQ funding.
"Happy New Year" from Wayne Davis
Details

Created: 28 December 2012

28 December 2012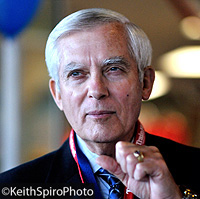 While wandering through the Maine Mall looking for last minute gift inspirations – listening to the music and being crushed by the crowds, I had a flashback. I'd just entered the central crossing at the mall and for an instant I could picture our RailVision political action committee tables and chairs and the many volunteers collecting signatures for our Passenger Rail Service Act.