Welcome to TrainRiders/Northeast
28th Annual TrainRiders/NE Meeting - 2016
Details

Published on Friday, 16 December 2016 16:13
Written by TRN Webmaster

The 28th Annual Meeting of TrainRiders/Northeast welcomed 100 attendees at the Clarion Hotel in Portland (next to the Transportation Center). Many of those came by train, so it was a quick walk from the station to the hotel.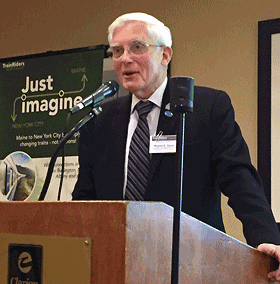 Senator Angus King saluted the Downeaster and TrainRiders/NE in a video presentation, complementing Wayne Davis for his vision and passion. Watch his comments here.
Eugene Skoropowski, Sr VP of Operations for All Aboard Florida's "Brightline", was the guest speaker. Gene's expertise is putting Florida on the map as a passenger-train-friendly state. He gave an impressive PowerPoint presentation, the slides of which can be viewed here.
Patricia Quinn did her most enjoyable 'number's bit', detailing the growth of the Downeaster Service from the Inaugural run some 15 years ago to the present. This comment is from board member Robert Hall of Exeter:
It has been a wonderful day of celebrating the 15th Anniversary of the Downeaster. It amazes me that fifteen years have passed. Six million riders have used the route from Brunswick to Boston. 2 1/2 million of those riders have traveled to or from the three NH Stations. Exeter, Durham or Dover. Exeter accounts for just over one million of those riders.
Trainriders/Northeast had a great luncheon in Portland and then off to Freeport we went to see the LL Bean Christmas Light display which is called Northern Lights.
A full day, a fun day and a great day for the Downeaster.
Take the train it is worth the time and money!

David Fink spoke to the members telling some 'behind the scenes' stories about his relationship with NNEPRA (all in good humor). He was particularly complimentary of Patricia Quinn's leadership over the years and expressed stern condemnation of those who continually denounce her efforts and that of her staff.
Bill Lord presented his latest video which tracked the empty freight yard where the Layover Facility was to be built through construction, tours, crew qualification, Government Oversight Committee hearing and finally the inauguration of the third roundtrip to Boston from Brunswick.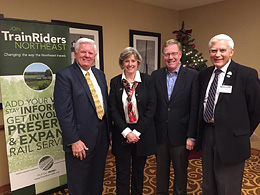 The four smiling faces in the photograph (Eugene Skoropowski, Patricia Quinn, David Fink and Wayne Davis) reflect the unanimity of opinion about the Downeaster's success and growth.
In 1989, a group of 21 citizens got together to talk about a return of passengers rail in Maine. The effort led to the creation of the grassroots organization of TrainRiders/Northeast.
The group, which included interested parties from throughout the state and several from New Hampshire, explored the feasibility of Amtrak extending the Northeast Corridor passenger trains from Boston through New Hampshire to Portland. That was our first step. We felt then, as we do now, that implementation of passenger rail should be undertaken on a regional and multi-state basis.
Won't you join our organization? There is much to do as we continue to work with the DOT and NNEPRA - from examing future routes to maintaining and improving the current service. Our future is in your hands. Go here to join.
First Quarter Performance Stats Show a Record Three Months!
Details

Published on Tuesday, 25 October 2016 13:03
Written by TRN Webmaster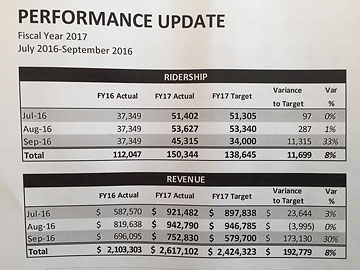 Ridership & Revenue: There isn't much commentary needed for the performance numbers released yesterday at NNEPRA's Board Meeting. Executive Director Patricia Quinn smiled as she reported that the first quarter of FY2017 set a 15-year record for Ridership and Revenue.
The ridership numbers reported this week have been updated due to an error. As you can see in the graphic, 37,349 was entered in all three 2016 months. The FY16 Actual numbers are:
July-16: 37,349
Aug-16: 46,215
Sep-16: 40,622
Total: 124,186
The conclusion remains the same - record quarter!
Read more: First Quarter Performance Stats Show a Record Three Months!
NNEPRA 2016 Annual Meeting
Details

Published on Friday, 14 October 2016 09:35
Written by TRN Webmaster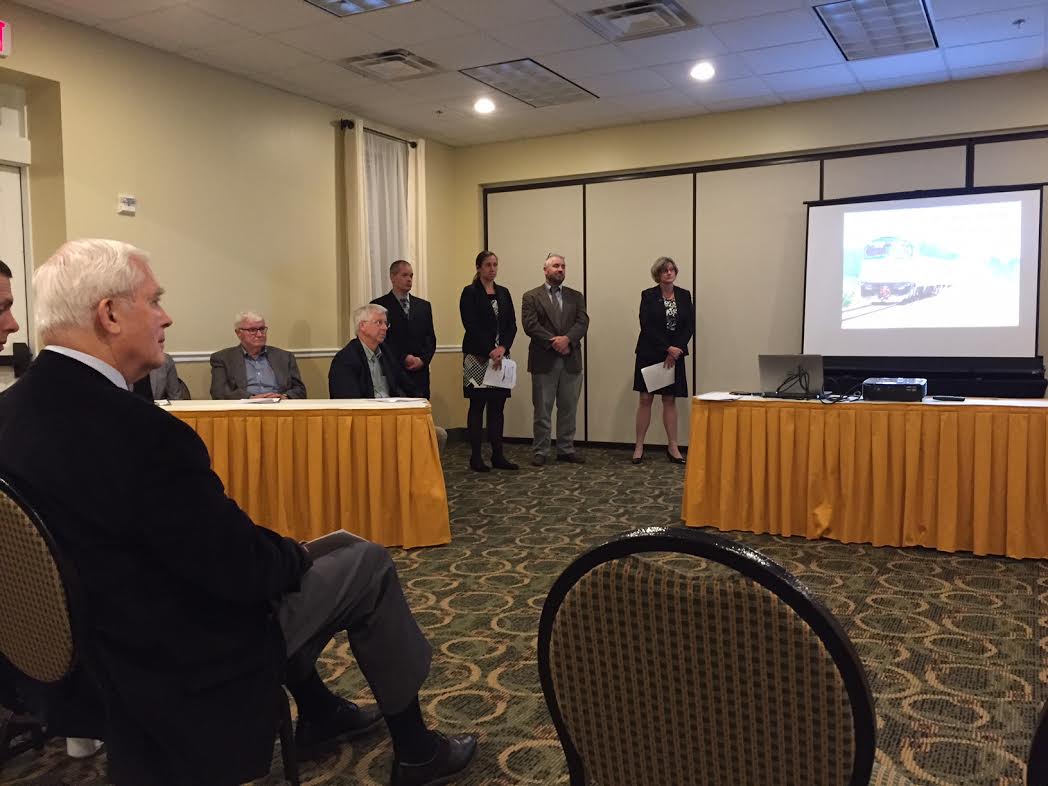 NNEPRA held its Annual Meeting last night in Freeport, Maine. Executive Director Patricia Quinn released the best statistic of the evening: "Fiscal year 2017 started strong with our highest first quarter ridership since the service was inaugurated!"
Much of the second quarter of FY2017 will suffer due to the current service disruption as some 15,000 ties are being replaced on the PanAm section of the line between Wells and Portland. This work is scheduled to end on November 21st when the third round trip from Brunswick to Boston will begin. This schedule improvement is due primarily to the Brunswick Layover Facility, which will go 'on line' next month.
Video of a trainset entering the BLF was scheduled to be shown at the meeting - produced by Maine HDTV in cooperation with Consigli Construction, NNEPRA and Amtrak. You can view it here.


Public Hearing on OPEGA's Review of NNEPRA
Details

Published on Saturday, 08 October 2016 02:27
Written by TRN Webmaster
The public hearing of the Maine Government Oversight Committee was held on October 6th, in Augusta. The purpose was to allow public comments on the recent Office of Program Evaluation and Government Accountability's (OPEGA) review of NNEPRA's financial and operational administration of the Amtrak Downeaster. Those who were displeased that the report failed to find fault with NNEPRA management, refocused their attention from trying to prevent the construction of the Brunswick Layover Facility to requesting further investigation of the decisions of NNEPA Executive Director Patricia Quinn as well as the board itself. Ms. Quinn, TrainRiders/NE Counsel F. Bruce Sleeper and an impassioned Board Chairman Martin Eisenstein returned the fire. Here's a sampling of the hearing.
The witnesses who asked for further investigation of NNEPRA consisted primarily of those who had opposed the siting of the Brunswick layover facility near their homes, as well as their State Senator, Stan Gerzofsky, and experts who had supported their position in the site selection process.
Having, in the face of multiple studies which, as evaluated by three State and federal agencies in addition to NNEPRA, supported the site chosen by NNEPRA as far and away the best one, been frustrated in attempting to change that site, these NIMBY's and their allies sought to attack the process which resulted in that decision, and, more generally, the way in which NNEPRA is being, and has been, run. As confirmed by statements made by Senator Gerzofsky, this was nothing more or less than an attack on NNEPRA's executive director, Patricia Quinn. That attack ignores both the accomplishments of NNEPRA under her leadership, as well as her nationally recognized, and nationally lauded, leadership role in passenger rail. Sour grapes anyone?
State Oversight Office Gives NNEPRA High Marks
Details

Published on Saturday, 17 September 2016 14:29
Written by TRN Webmaster
The Government Oversight Committee held a session this week to hear the Office of Program Evaluation and Government Accountability's position regarding an investigation into NNEPRA's management of its finances and operational supervision of the Downeaster passenger rail service.

State Senator Stan Gerzofsky of Brunswick, an outgoing member of the Government Oversight Committee, had forcefully pursued the investigation. The following report is from All Aboard Brunswick which has been closely following the process.
OPEGA found NNEPRA to be a well-run organization with lots of oversight, tasked with the challenge of coordinating operations with Amtrak, Pam Am Railways, the MBTA, Maine DOT, individual station owners, and responsible to the Legislature, Maine DOT, the Federal Rail Authority (FRA), and the Federal Transportation Authority (FTA). Basically, the report said, "Nothing to see here, folks. Move along now."
The report's three recommendations were:
1. Better communication between NNEPRA and the Legislature, with the Transportation Committee scheduling NNEPRA to present its annual reports at public meetings. In the past, presentations at public meetings have typically been initiated by NNEPRA.
2. As part of the process of establishing passenger rail policy, planning and implementation, the Legislature, MDOT and NNEPRA should rely on objective cost-benefit research and analysis, and provide timely and appropriate forums for public input throughout a project's duration.