Welcome to TrainRiders/Northeast
TrainRiders/NE Board Elects First Executive Director
Details

Published on Wednesday, 18 January 2017 03:06
Written by TRN Webmaster
TrainRiders/NORTHEAST
CHANGING the Way the Northeast Travels
Box 4869, Portland, Maine 04112
207-TRY-RAIL
January 18, 2017
TrainRiders Northeast Hires First Ever Executive Director
FOR IMMEDIATE RELEASE – TrainRiders Northeast, the non-profit, volunteer, rail advocacy organization founded in 1989 announced today that it has hired its first ever Executive Director, George O'Keefe, Jr., of Winthrop. O'Keefe is currently a Master's Degree candidate in the Policy, Planning, and Management Program, with a concentration in Organizational Leadership and Management, at the Muskie School of Public Service.
O'Keefe will work alongside TrainRiders' longtime Chairman and co-founder Wayne E. Davis to help the organization expand its mission of bringing "modern and efficient" passenger rail service to the Northeast. "A balanced transportation system is what we need in order to provide for sustainable economic opportunities that will last for generations," said O'Keefe.
O'Keefe is a proud member of the Maine Army National Guard's 133rd Engineer Battalion, serving as the Battalion Intelligence Sergeant, and has deployed twice with his unit to Afghanistan, most recently to Bagram Airfield from 2013 to 2014. He got his start in the transportation policy field while working as a freelance writer for railroad.net and has since helped build partnerships between NNEPRA and a variety of community groups that focus on veterans and youth.
TrainRiders' Chairman Wayne Davis was elated at the unanimous vote of the TrainRiders board to add George O'Keefe to the organization's management team. "We've been waiting a long time for the right person to come along to help us expand our original goals set out in 1989. We look to exciting times as we move along to our next accomplishments.
In 1991, TrainRiders, through its political action committee, RailVision, spearheaded the passage of Maine's Passenger Rail Service Act, the first citizen-initiated bill ever approved by the Maine Legislature, leading to the creation of Amtrak's Downeaster passenger rail service. In 1995, TrainRiders also worked with MDOT and the Maine Legislature to create the Northern New England Passenger Rail Authority (NNEPRA) to manage the then-proposed passenger train service. Through the ongoing efforts of TrainRiders and many others, the Downeaster passenger rail service now runs between Brunswick and Boston. TrainRiders' members also volunteer thousands of hours every year as hosts at stations along the Downeaster route and on board the trains to provide assistance to rail travelers, Amtrak conductors, and NNEPRA.
28th Annual TrainRiders/NE Meeting - 2016
Details

Published on Friday, 16 December 2016 16:13
Written by TRN Webmaster

The 28th Annual Meeting of TrainRiders/Northeast welcomed 100 attendees at the Clarion Hotel in Portland (next to the Transportation Center). Many of those came by train, so it was a quick walk from the station to the hotel.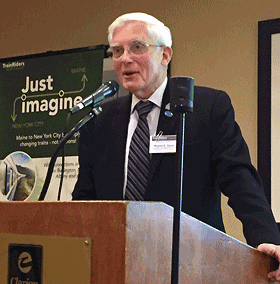 Senator Angus King saluted the Downeaster and TrainRiders/NE in a video presentation, complementing Wayne Davis for his vision and passion. Watch his comments here.
Eugene Skoropowski, Sr VP of Operations for All Aboard Florida's "Brightline", was the guest speaker. Gene's expertise is putting Florida on the map as a passenger-train-friendly state. He gave an impressive PowerPoint presentation, the slides of which can be viewed here.
First Quarter Performance Stats Show a Record Three Months!
Details

Published on Tuesday, 25 October 2016 13:03
Written by TRN Webmaster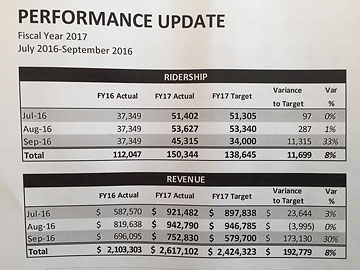 Ridership & Revenue: There isn't much commentary needed for the performance numbers released yesterday at NNEPRA's Board Meeting. Executive Director Patricia Quinn smiled as she reported that the first quarter of FY2017 set a 15-year record for Ridership and Revenue.
The ridership numbers reported this week have been updated due to an error. As you can see in the graphic, 37,349 was entered in all three 2016 months. The FY16 Actual numbers are:
July-16: 37,349
Aug-16: 46,215
Sep-16: 40,622
Total: 124,186
The conclusion remains the same - record quarter!
Read more: First Quarter Performance Stats Show a Record Three Months!
NNEPRA 2016 Annual Meeting
Details

Published on Friday, 14 October 2016 09:35
Written by TRN Webmaster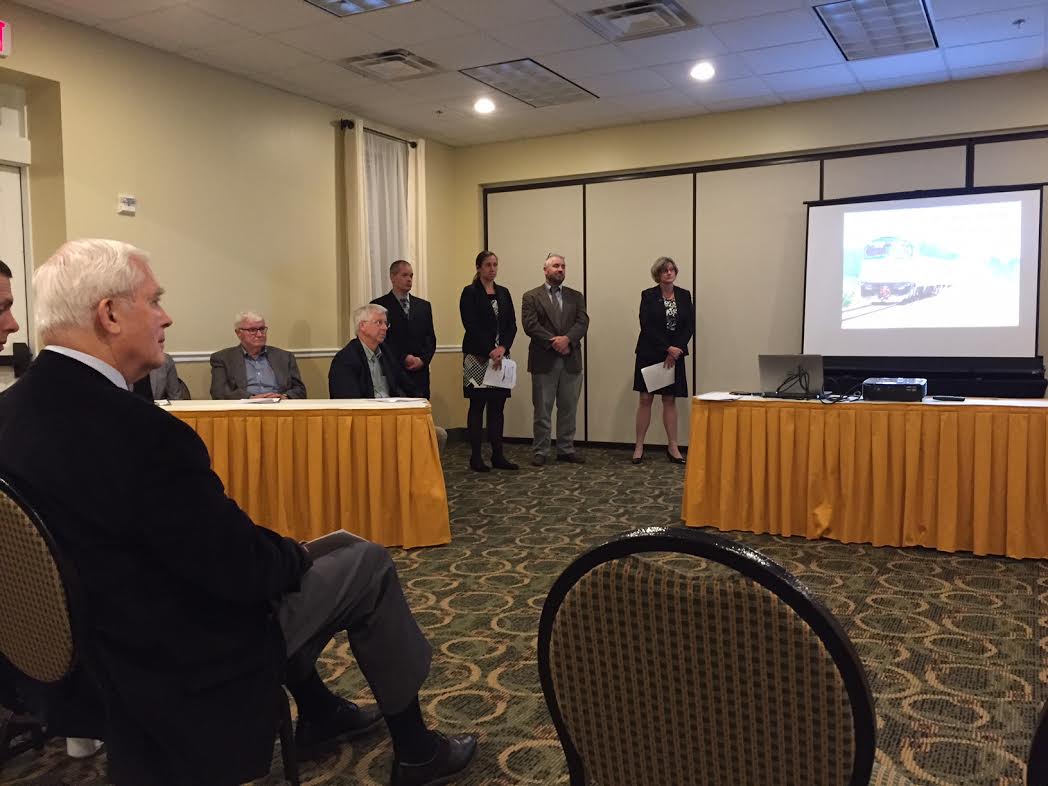 NNEPRA held its Annual Meeting last night in Freeport, Maine. Executive Director Patricia Quinn released the best statistic of the evening: "Fiscal year 2017 started strong with our highest first quarter ridership since the service was inaugurated!"
Much of the second quarter of FY2017 will suffer due to the current service disruption as some 15,000 ties are being replaced on the PanAm section of the line between Wells and Portland. This work is scheduled to end on November 21st when the third round trip from Brunswick to Boston will begin. This schedule improvement is due primarily to the Brunswick Layover Facility, which will go 'on line' next month.
Video of a trainset entering the BLF was scheduled to be shown at the meeting - produced by Maine HDTV in cooperation with Consigli Construction, NNEPRA and Amtrak. You can view it here.


Public Hearing on OPEGA's Review of NNEPRA
Details

Published on Saturday, 08 October 2016 02:27
Written by TRN Webmaster
The public hearing of the Maine Government Oversight Committee was held on October 6th, in Augusta. The purpose was to allow public comments on the recent Office of Program Evaluation and Government Accountability's (OPEGA) review of NNEPRA's financial and operational administration of the Amtrak Downeaster. Those who were displeased that the report failed to find fault with NNEPRA management, refocused their attention from trying to prevent the construction of the Brunswick Layover Facility to requesting further investigation of the decisions of NNEPA Executive Director Patricia Quinn as well as the board itself. Ms. Quinn, TrainRiders/NE Counsel F. Bruce Sleeper and an impassioned Board Chairman Martin Eisenstein returned the fire. Here's a sampling of the hearing.
The witnesses who asked for further investigation of NNEPRA consisted primarily of those who had opposed the siting of the Brunswick layover facility near their homes, as well as their State Senator, Stan Gerzofsky, and experts who had supported their position in the site selection process.
Having, in the face of multiple studies which, as evaluated by three State and federal agencies in addition to NNEPRA, supported the site chosen by NNEPRA as far and away the best one, been frustrated in attempting to change that site, these NIMBY's and their allies sought to attack the process which resulted in that decision, and, more generally, the way in which NNEPRA is being, and has been, run. As confirmed by statements made by Senator Gerzofsky, this was nothing more or less than an attack on NNEPRA's executive director, Patricia Quinn. That attack ignores both the accomplishments of NNEPRA under her leadership, as well as her nationally recognized, and nationally lauded, leadership role in passenger rail. Sour grapes anyone?