NNEPRA Board Meeting - June, 2012
Details

Written by TRN Webmaster

TRN Webmaster

Published: 27 June 2012

27 June 2012
The NNEPRA Board met this week in Portland where Executive Director Patricia Quinn reported continued growth in Downeaster ridership and revenue for May and the fiscal year to date: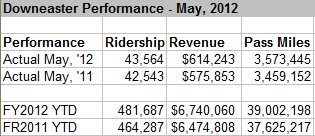 The Customer Satisfaction Index was particularly encouraging when compared to the overall Amtrak system: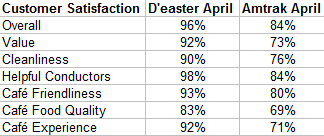 Tiger Grant Request Turned Down:
NNEPRA had applied for a $20 milion grant from the USDoT to fund additional items related to the Portland to Brunswick expansion. NNEPRA did not make the cut and will now have to search for additional funding elsewhere. This should not, according to Ms. Quinn, affect the startup date of the service to Freeport and Brunswick. More details in The Forecaster.