News Brief
NNEPRA reports May ridership missed FY2017 target by 5%, due to loss of approximately 2,500 riders because of weekend curtailments and heat restrictions. May ridership was only 261 passengers below May of last year. FY2017 YTD ridership is 9% ahead of target. When the June numbers come in, FY2017 promises to be a very successful year. 
TrainRiders/NE to Co-host NARP's Annual New England Regional Meeting
Details

Written by TRN Webmaster

TRN Webmaster

Published: 27 February 2013

27 February 2013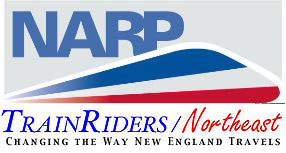 Passenger rail advocates are invited to the NARP Annual New England Meeting to be held on Saturday, April 6th, at the Clarion Hotel, which is right next to the Downeaster stop at the Portland Transportation Center. Registration is at 11:30, the meeting begins at noon and will conclude by 3:30.
TrainRiders/NE is co-hosting the event which will focus on New England rails issues. Among the guest speakers are Patricia Quinn, Executive Director of NNEPRA and Malcolm Kenton, Director of Outreach and Engagement for NARP.
There will be regional reports from each state, including comments from Christopher Parker, Executive Director of the Vermont Rail Action Network and Wayne Davis, Chairman of TrainRiders/NE.
Cost: $38 per person if post marked by April 1st, $40 afterwards - the price includes a hot buffet lunch. NARP members desiring hotel accommodations can take advantage of a special TrainRiders/NE rate of $79 plus 7% tax. Make your own reservations with the hotel by calling 207 774-5611.
Click here to print out the registration form.
Click here to print out the meeting brochure.{jcomments on}