Quick Note: Train Host Program

TrainRiders/NE Train Hosts serve as goodwill ambassadors onboard the Downeaster to assist passengers with information; assist train crews in duties as requested by them; and promote rail safety.
As a volunteer, you'll travel between Maine and Boston conversing with passengers along the way.

Click on "Host Program" in the above menu for more information.

NNEPRA Board Meeting - July 1st - Downeaster Moves Toward Record Fiscal Year
Details

Written by TRN Webmaster

TRN Webmaster

Published: 02 July 2013

02 July 2013
Performance Report: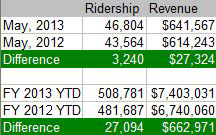 Executive Director Patricia Quinn released the May statistics which showed continued growth with every expectation that the Downeaster service would set a new passenger/revenue record for fiscal year 2013. May, 2013 ridership exceeded the previous year by 6.92%, revenue increased over that same period by 4.26%.
On Time Performance was 80.50% and overall Customer Satisfaction Index was 94.
Expansion Stations:
May, 2013 ridership on the Boston-Brunswick route was 1,909, and Freeport's ridership was 838. Together (2,747), they exceeded Boston-Durham (2,582) and Boston-Haverhill (2,564) and approached the numbers for Boston-Saco (2,885). Ms. Quinn was very pleased with these initial May numbers for the expansion towns.
Brunswick Layover Facility:
NNEPRA's Environmental Assessment draft report has been submitted to the FRA. Following questions and comments from that federal regulatory body, it will be finalized and submitted for public comment. NNEPRA is hopeful that a public meeting can be held within the next few months.
The Brunswick Advisory Group will meet with NNEPRA next week.
Service Development Plan:
Ms. Quinn noted that NNEPRA was continuing to work on its Service Development Plan. Tony Donovan of the Maine Transit Coalition provided a letter to the NNEPRA Board regarding that organization's multiple goals. Several members of the board cautioned Mr. Donovan against creating excessive expectations with the public, and counseled that realistic goals were more achievable.{jcomments on}