News Brief

Memories...TrainRiders/NE Chairman Wayne Davis looks back on
the Downeaster's Year-of-Success. Yes, it was a very good year!
Go here.
Annual Meeting: Direct Downeaster Service to NYC Proposed & Revealing Video of the BLF Site
Details

Written by TRN Webmaster

TRN Webmaster

Published: 17 October 2014

17 October 2014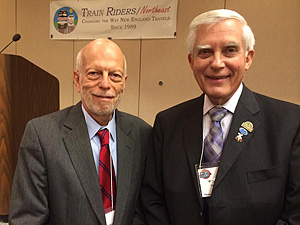 Our 26th Annual Meeting was held on Oct. 16th at the Holiday Inn by the Bay in Portland. Our keynote speaker was Ross Capon, Transportation Consultant and President Emeritus of the National Association of Railroad Passengers. Ross has testified countless times before Congress on behalf of railroad passengers. He is a member of the Federal Railroad Administration's Railroad Safety Advisory Committee along other federal and rail transportation boards. Ross shared his extensive knowledge of Amtrak's struggles to find congressional funding over the years. He is a long-time friend of TrainRiders/Northeast can be seen on the Downeaster as he vacations in Maine.
Patricia Quinn, NNEPRA Executive Director, displayed her 'numbers game' which was an easily digestible story of the Downeaster's successes and challenges.
Wayne announced an intiative to expand Downeaster service to New York City - it would be a direct route, bypassing the North and South Station bottlenecks. Video: http://youtu.be/YTJI5DJuc8E
MPBN report: http://news.mpbn.net/post/rail-riders-seek-better-connections-between-maine-and-new-york
PPH article on drone video of BLF site: http://www.pressherald.com/2014/10/23/drone-deployed-in-brunswick-battle-over-rail-facility/

In addition, an eye-riveting video of the Brunswick Layover Facility site was unveiled, analyzed by Jeff Reynolds who lives in the West Brunswick neighborhood.
A fine and informative evening was enjoyed by all!