News Brief

Memories...TrainRiders/NE Chairman Wayne Davis looks back on
the Downeaster's Year-of-Success. Yes, it was a very good year!
Go here.
Important Winter Newsletter Now Available
Details

Written by TRN Webmaster

TRN Webmaster

Published: 17 March 2016

17 March 2016
TrainRiders/NE took on an important responsibility last year as we joined NNEPRA in their battle against the NIMFYs (Not in My Freight Yard). Their toxic opposition threatened to sabotage the much-needed Brunswick Layover Facility.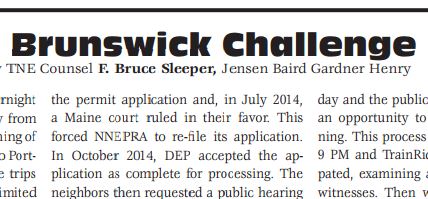 We became an 'intervenor' which allowed us to join the ongoing litigation before the Department of Environmental Protection and ultimately the Board of Environmental Protection. The so-called Brunswick West Neighborhood Coalition opposed the granting of a Storm Water Permit to NNEPRA. Without it, the facility could not be built. The state repeatedly overruled their objections and the lengthy legal dispute finally came to an end. We encourage you to read Counsel F. Bruce Sleeper's detailed summation in our newsletter - The Brunswick Challenge. Our legal bills topped $70,000. This effort is another example of why this organization is important to the improvement and expansion of passenger rail in the Northeast. Go here for the newsletter.